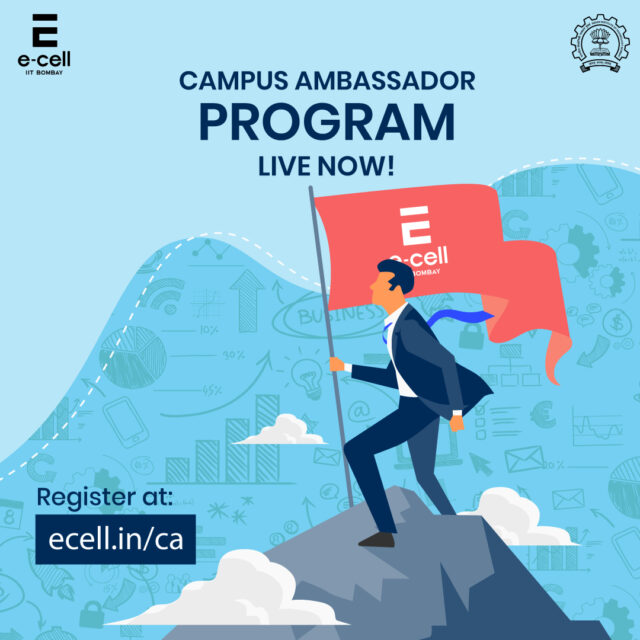 About E-Cell IIT Bombay:
Also checkout : TCS invites application for Internship Program 2022 | ACE Career Development Program | Checkout eligibility , dates , how to apply ?
IIT Bombay believe that entrepreneurship is the key to India's development. To fulfill this vision, they have conceptualized & successfully implemented various initiatives to help students, young entrepreneurs & professionals in their entrepreneurial journey.
About the Program:
The campus ambassador's day-to-day responsibilities include-
Also Apply for : Machine Learning Boot camp by Google | Free Certification Courses and Internship for Students
Planning & organizing entrepreneurship-related events in your college with the support of the E-Cell, IIT Bombay
Increasing the outreach of the initiatives of E-Cell, IIT Bombay to promote entrepreneurial activities in your college network
Forwarding the mails to the college mailing list and sharing and publicizing events on various social media platforms
Ensuring enthusiastic participation of your college in the competitions conducted by E-Cell, IIT Bombay
Learning Opportunities:
Also Checkout : Electrical Engineering Internship at Thermo Fisher Scientific – Apply before 8 July 2022
They have lined up plenty of free workshops for skill development of CA's, which will be followed by some tasks. They will also receive various online courses, e-degrees, and internship opportunities based upon merit. CA will get free entry to the webinars conducted by E-Cell, IIT Bombay. You will also be allocated an IIT Bombay mentor who will assist you throughout your internship.
Rewards and Incentives:
ALSO : MEITY launched 60 Internships for Students | Free Government Internship with Stipend and Certificate | Ministry of Electronics and Information Technology
Certificates: Get a certificate of appreciation from The Entrepreneurship Cell, IIT Bombay on successfully completing the tenure
Internship opportunities to the top-performing CAs at India Accelerator, Skillenable, FortyTwo, Getwork, etc.
Online certified courses, premium e-degrees, and mighty bundles to the top 100 CAs
Merchandise of E-Cell, IIT Bombay to top-performing CAs
Corporate gifts to top-performing CAs
Perks:
Also Checkout :Flipkart GRiD 4.0 | Software Development Challenge – Register before 30th June 2022
Certificate of Internship
Letter of recommendation
Flexible work hours
Who can apply?
Also Checkout : CIET Launched Cyber Jaagrookta Diwas Series Theme for June, 2022 : Financial Safety in CyberSpace in collaboration with NCERT and Digital India | Free Online Training with Certificate
NOTE : CHECKOUT Financial Safety in CyberSpace QUIZ ANSWERS
Only those candidates can apply who:
Can start the part-time job/internship between 9th Jun'22 and 14th July 2022
Are available for a duration of 4 months
Have relevant skills and interests
Selection Procedure:
The selection procedure will be based on the response and if required we will take interviews.
Application Deadline :
Also Checkout : Ministry of Education Launched 5- Days Short Course on Game Development | Government Free Online Training with Certificates
Start Date :06 Jul 22, 12:00 AM IST
End Date : 07 Nov 22, 12:00 AM IST
FOLLOW MY SOCIAL MEDIA CHANNELS, TELEGRAM CHANNEL, AND WHATSAPP GROUP FOR THE LATEST UPDATES ON FREE COURSES, CERTIFICATIONS, SCHOLARSHIPS, INTERNSHIPS, AND JOBS