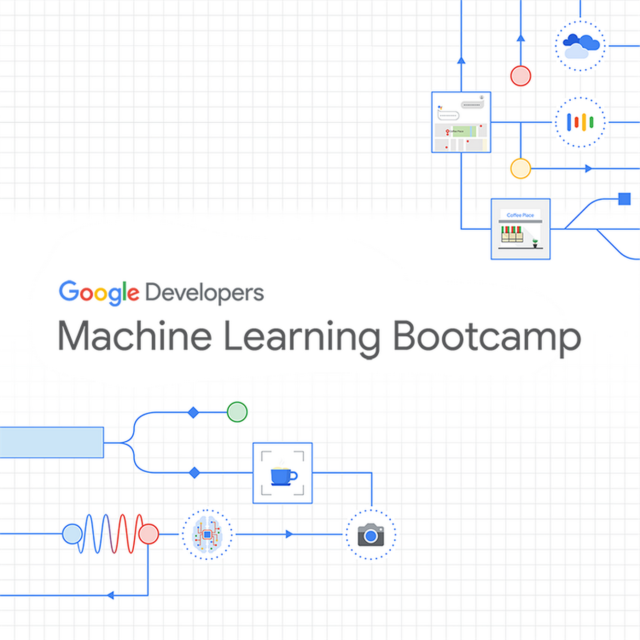 Hery Everyone ! Google has launched a Machine Learning bootcamp for everyone to impart skills of Machine learning and selected students will get a chance to do internships and job in big tech companies. This is a great initiative so lets find out more in this post
About the Program :
The Google Developers Machine Learning Bootcamp – India is a program to foster the growth of machine learning developers.
The goal of this program is for the participants to study machine learning theories and eventually become able to solve engineering problems in actual job situations. We will provide an environment for self-study and various opportunities to whet your motivation.
Screened participants are required to complete a training course in deep learning, a ML certification, and a hands-on project in 4 months. Those that complete all of them will be given a chance to apply for a full-time job or an intern position at one of the IT companies in India that provide services involving machine learning.
We have the practical project option, enriched the sessions for resume writing and career development, and expanded the employment potential by partnering with more businesses to ensure that our participants will come out even stronger for the job market.
Eligibility
It doesn't matter if you are still in school, looking for a job, already have a job, or are a freelancer. Everybody can apply. Because we will connect you to our partners for potential employment, you personally must be interested in getting hired as a full-time or intern ML developer right after the program.
Schedule
Application Deadline: June 25, 2022
Announcement: July 06, 2022
Program Start: July 13, 2022
Requirements
You must have basic programming experience in Python.
Given this program's purpose, your personal goal must be to find employment at an IT company or a startup as a full-time worker or intern. If you are just interested in learning about machine learning, this program is not for you.
You must not have previously completed any of the training components offered in this program (Coursera Deep Learning Specialization, TensorFlow certification, GCP Professional Data Engineer certification, and GCP Professional ML Engineer certification).
The whole program will take about 4 months. You must be willing to work hard and learn during this time.
While we will set up online meetings and provide some mentoring to encourage your studies, you have to learn on your own.
Phases :
1. ML Training: Complete educational training in Machine Learning Theory
Deep Learning Specialization
A specialized training program in deep learning created by Andrew Ng, one of the founding members of Google Brain and a co-founder of Coursera, and his colleagues. It consists of five courses with lectures imparting professional knowledge as well as insights and advice from the experiences of industry leaders.
This training component is in English and is a requirement of the program.
While you must study on your own to complete this training, we will provide online groups and mentoring opportunities to help with the process.
Google will fund the cost associated with this training.
Participants completing this training will receive a completion gift.
2. ML Certificates: Complete a machine learning certification
TensorFlow certificates: This certificate can demonstrate your deep learning and machine learning (ML) problem-solving skills.
GCP Professional Data Engineer certificates: This certification exam assesses your ability to design data processing systems, process architect data, build systems and operationalize machine learning models, and ensure solution quality.
GCP Professional ML Engineer certificates: This certification exam assesses your ability to frame ML problems, architect solutions, design data preparation and processing systems, develop models, automate and orchestrate pipelines, and monitor, optimize, and maintain ML solutions.
You must complete at least one of the above certifications.
The exams are in English.
While you must study on your own to complete your certification, we will provide online groups and mentoring opportunities to help with your preparation.
Google will fund the cost to take the exam.
Participants completing this training will receive a completion gift.
3. ML Practice: Participate in Kaggle Competition
Also Checkout : Internship for B.tech and M.tech Students in Ministry of Road Transport and Highways
Kaggle is a platform for competitions where data scientists from all over the world come together to demonstrate their skills and earn prizes and fame. Experiencing real or close-to-real cases by participating in a Kaggle competition will provide a chance to see how much you have learned from the Deep Learning Specialization and ML certification.
All communications on Kaggle will be in English.
While you must take the initiative to find members and decide on the data and theme for your project, we will provide some mentorship with general guidance.
Participants completing this training will receive a completion gift.
4. ML Network: Make connections with ML companies and apply for employment
Also Checkout :Flipkart GRiD 4.0 | Software Development Challenge – Register before 30th June 2022
In addition to the training components where you have to study on your own, this program will feature Tech Talk, Career Tak, and Meet up sessions with IT companies looking for ML developers where you can gather insights from real-life examples as you prepare a career as a ML developer.
Tech Talk: Participating companies introduce their technology and share what it's like to work as developers. You will get to hear from current practitioners about their workplace and find out more about the companies you'll apply for.
Career Talk/Resume Clinic: One of the common challenges of looking for a new job is creating an impressive work portfolio. Experts in the field will explain and give advice on how to build your long-term career and how to manifest that in your resume instead of merely listing qualifications acquired over a short time.
Meetup: You will get to meet and communicate with experts from the training component, specialized ML developers, and other participants of the program, finding answers and inspirations about the field.
Also Checkout : CIET Launched Cyber Jaagrookta Diwas Series Theme for June, 2022 : Financial Safety in CyberSpace in collaboration with NCERT and Digital India | Free Online Training with Certificate
NOTE : CHECKOUT Financial Safety in CyberSpace QUIZ ANSWERS
Program Schedule :
Internship or Job Opportunities?
Also Checkout : Ministry of Education Launched 5- Days Short Course on Game Development | Government Free Online Training with Certificates
Only participants who complete the specified training components will be given a chance to connect with our partners to apply for employment. The partner companies will make the hiring decision, and Google will not be involved in any way other than connecting the participants with the potential employers.
How to apply?
CLICK HERE FOR OFFICIAL NOTIFICATION : CLICK
FOLLOW MY SOCIAL MEDIA CHANNELS, TELEGRAM CHANNEL, AND WHATSAPP GROUP FOR THE LATEST UPDATES ON FREE COURSES, CERTIFICATIONS, SCHOLARSHIPS, INTERNSHIPS, AND JOBS