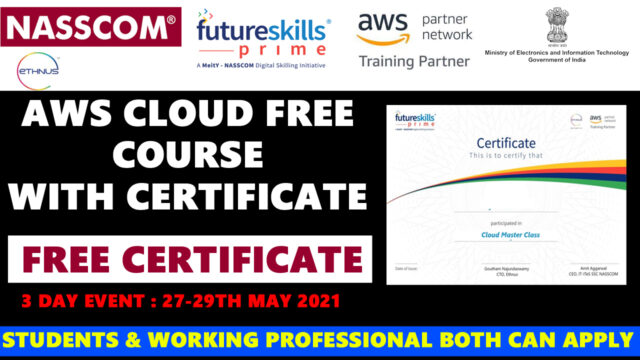 Hi everyone just like the previous event Microsoft AI classroom Series here is an another one from NASSCOM and FUTURE SKILLS PRIME. They launched 3 day mastercourse on AWS Cloud in association with Ministry of Electronics and Information Technology (MEITY). It is open for all the students and IT Professionals.
Event Date : 27th , 28th & 29th ,May 2021
Partners : Nasscom , Future Skills Prime AWS Training partner , Ethnus and MEITY
Duration : 3 hours
Highlights of the program :
Introduction to the Cloud and Overview of AWS Services
Build a Facial recognition app in 30 minutes
Earn a certificate and badge from Ethnus and NASSCOM FutureSkills
Gain insights on starting your career in AWS
All in an interactive and exciting 3 hours event
ABOUT DISCOVERY DAY : This course is designed to teach students and IT professionals the importance of Cloud Computing in today's world. This course covers AWS services for computing, storage, database management, networking, and content delivery. In this 3-hour course, you will learn how to use AWS services, build a facial recognition app, start a career in AWS Technologies and post completion of session steps, in taking the assessment.
Workflow of this Masterclass :
Certificate Sample :
These Posts Might Interest you :