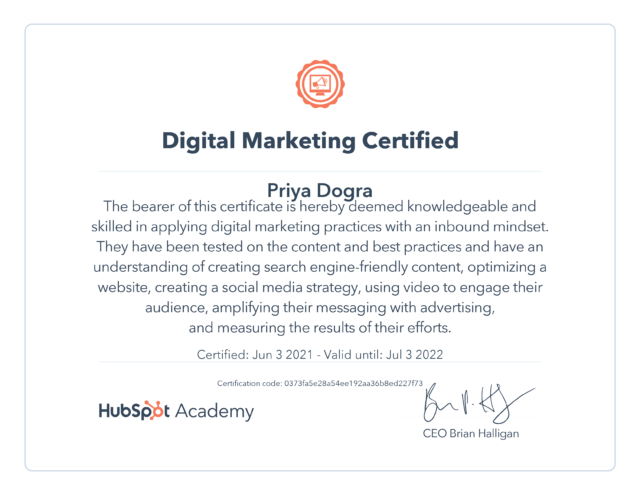 Hi Everyone so here is the free Course on Digital Marketing with Professional Certification for Students and Working Professionals out there . This is Digital Marketing Professional Certification Course which is free of Cost with certificate. It is provided by Hubspot Academy and anyone can apply for it.
Digital Marketing is any kind of marketing that happens on a digital platform. Whether it's on your website, your social media, or through email, it's digital marketing. On the other hand, Inbound Marketing is a business methodology that attracts customers by creating valuable content and experiences tailored to them. It's a way to market (usually using digital marketing tactics) that draws in qualified leads, rather than blasting a message out to a mass audience. The Digital Marketing Certification Course will teach you how to become an effective digital marketer with an inbound-first mindset.
Who is this for?
Marketing Managers looking to upskill their digital marketing expertise.
Content marketers looking to broaden their skillset.
Students looking for an introduction to digital marketing.
What you'll learn:
Optimize your website for search engines.
Create a non-paid strategy to build and grow a following.
Create an ads strategy to amplify your business message to a targeted audience.
Note : Exam Answers will be Updated Soon
Check this out : NIT & IEEE 10-day Free Online Course with Certificate |Python | Machine Learning and Deep Learning with Remote Sensing Applications
National Level E-Quiz on Entrepreneurship Development | Department of Commerce Free Certificate | University of Kerala
Autodesk Free Certificate | Autodesk Certified Professional Certification | AutoDesk Design Academy
CCNA Exam Questions and Answers
Udacity Free AWS Machine Learning Nanodegree Program
Linkedin Learning Free Course with Certificate | GCP | Azure | Python | ML | AI | Scrum | AWS