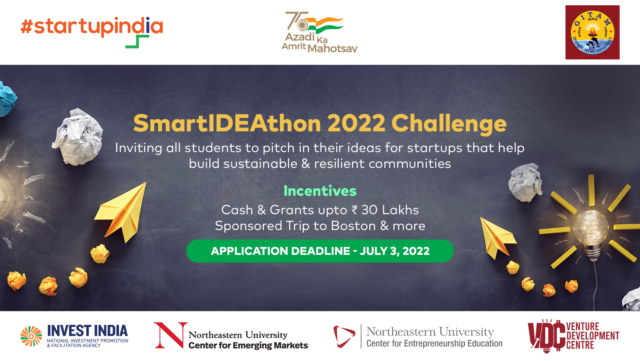 SmartIDEAthon 2022 – Cash Prizes of Rs 30 Lakhs ,sponsored trip to Boston for students | Government challenges
ALSO CHECKOUT : Amazon Internship 2022 | Summer Accounting Internship | Apply before 12th july 2022
Venture Development Centre, GITAM Deemed University, in association with Northeastern University Center for Entrepreneurship Education (NUCEE), Center for Emerging Markets at Northeastern University (NUCEM), Startup India, and Invest India is organising SmartIDEAthon-2022. This Challenge has lot of things in store for you . So if you are even little bit interested get in board with us
About Challenge :
ALSO CHECKOUT :Internship Opportunity at Mamaearth |Internships for Students 2022
SmartIDEAthon is a student pitching competition of ideas built on themes that help build sustainable and resilient communities through innovation. This program includes providing personalized coaching and grooming students' ideas with boot camps and coaching sessions for shortlisted candidates conducted by internationally trained venture coaches.
Eligibility
Also Checkout : Indian School of Business – Student Engagement Internship | Apply before 15th july 2022
The competition is open to all current students enrolled in any undergraduate or postgraduate program in any educational institution across India and also to recent graduates (who graduated not earlier than 2020)
The team can be an individual or a group not exceeding two students
A student is only eligible to be part of one idea submission team
Once a team is shortlisted, we would need each team member to submit a letter from their college or their Student ID cards validating their student/alumnus credentials
If all members of a team are from the same institute, one joint letter is acceptable
SmartIDEAthon 2022 Themes :
Also Checkout : IIT Bombay Campus Ambassador Internship Program |Checkout eligibility , dates , how to apply ?
Food & Agriculture
Clean/Green Technology
Waste Management
Health Tech & Assistive Technology
Water Management
Timelines :
Also Checkout : Database Management System Free Certificate | DBMS Quiz Certificate – National Level Quiz Certification (Solved MCQs)
Application Start Date : 4JUN, 2022
Application End Date : 3 JUL, 2022
Round 1 Result : 15 JUL, 2022
Round 2 Result : 22 JUL, 2022
Semi-Finals: 10 AUG, 2022
Grand Finale : 11 AUG, 2022
Process of SMARTIDEAthon 2022 :
Also Checkout : Electrical Engineering Internship at Thermo Fisher Scientific – Apply before 8 July 2022
Round 1:
A one-minute video pitch and a presentation (up to 10 slides max), a template of which is included in the form should be submitted.
Submitted ideas will be reviewed by a panel for completeness, relevance and innovation.
Shortlisted teams from Round 1 will be notified via email.
Round 2:
Also Checkout : TCS invites application for Internship Program 2022 | ACE Career Development Program | Checkout eligibility , dates , how to apply ?
Up to 100 Shortlisted applicants will be invited for an online bootcamp session conducted by entrepreneurship practitioners to help enhance their ideas and develop their pitching deck.
Shortlisted teams will also be provided coaching sessions by the trained venture coaches.
A new one-minute video pitch and a presentation (up to 10 slides max) should be submitted after the bootcamp.
As part of Round 2 submission, the team would also need to submit a bonafide letter from the college/ Student ID cards identifying them as students/alumni (2020 or later graduates).
Submitted ideas will be reviewed by a panel for completeness, innovation, scalability and impact.
32 Shortlisted teams from Round 2 will enter the Semi-Final Round and will be notified via email and by phone.
Round 3 & Semi Finals :
Also Checkout : MEITY launched 60 Internships for Students | Free Government Internship with Stipend and Certificate | Ministry of Electronics and Information Technology
All teams and their constituent members (founders and co-founders not exceeding two per team) qualified for the Semi-Finals round will be invited to an advanced online bootcamp session.
Each Semi-Finalist team will be assigned a personal venture coach to help prepare for the semi-final and final rounds.
Each Semi Finalist team has to submit their final pitching deck of max ten slides, one week before the Semi-Finals.
The Semi Finals and the Grand Finale will be organized at GITAM, Visakhapatnam campus.
The 32 participants will be provided 3-tier AC travel, accommodation and food in GITAM student hostels on a twin-sharing basis to check in at GITAM Visakhapatnam campus on the designated day to participate in the Semi-Finals round in-person only.
Teams will get ample opportunity to network with industry experts, entrepreneurs and other prominent guests throughout the event.
In the Semi Final round, each team will be provided 15 minutes (10 min pitch, 5 min Q&A) to pitch their deck of a max of 10 slides. The pitches will be closeddoor to a panel of judges and a small team of venture coaches and observers.
8 teams will be shortlisted for the Finals which takes place on the day after the Semi-Finals
Final pitches (10 slides, 10 minutes to present and 10 minutes for Q&A) will be to a live audience on stage in an auditorium setting.
The Semi Finals and Finals will be judged by a panel of national and international experts.
Grand Finale celebration will include a keynote by a VIP guest followed by an awards ceremony
Rewards :
Also Checkout : Machine Learning Boot camp by Google | Free Certification Courses and Internship for Students
INR 2,00,000 cash prize
Fully sponsored two weeks trip for two members (Founder and co-founder ONLY) to Boston during October 2022 to participate in the India@75 Celebrations, worth INR 6,00,000). Includes visa fee, roundtrip economy airfare, food, stay and local transportation.
Goodies worth INR 20,000
Access to Northeastern University's NU-IDEA Ready-Set-Go structured Venture Development Program and one on one coaching from VDC venture coaches worth INR 3,00,000
Procedure Post Submission
Also Checkout :ISRO Free Course on Satellite Remote Sensing of Atmosphere for everyone | Get ISRO Certificate for Free
The challenge will happen in 3 Rounds:
Round 1 & 2 will be virtual and the same will be communicated to selected teams through e-mail.
Round 3 will be in person for the selected Semi-Finalists & Finalists on 10th & 11th August, 2022 at GITAM Deemed to be University, Visakhapatnam Campus, Andhra Pradesh.
Rewards :
Also Checkout : Government of India Incentive Program | Get Rewards on Digital Upskilling – Checkout How to avail incentives
INR 2,00,000 cash prize
Fully sponsored two weeks trip for two members (Founder and co-founder ONLY) to Boston during October 2022 to participate in the India@75 Celebrations, worth INR 6,00,000). Includes visa fee, roundtrip economy airfare, food, stay and local transportation.
Goodies worth INR 20,000
Access to Northeastern University's NU-IDEA Ready-Set-Go structured Venture Development Program and one on one coaching from VDC venture coaches worth INR 3,00,000
Also Checkout : Ministry of Education Launched 5- Days Short Course on Game Development | Government Free Online Training with Certificates
FOLLOW MY SOCIAL MEDIA CHANNELS, TELEGRAM CHANNEL, AND WHATSAPP GROUP FOR THE LATEST UPDATES ON FREE COURSES, CERTIFICATIONS, SCHOLARSHIPS, INTERNSHIPS, AND JOBS