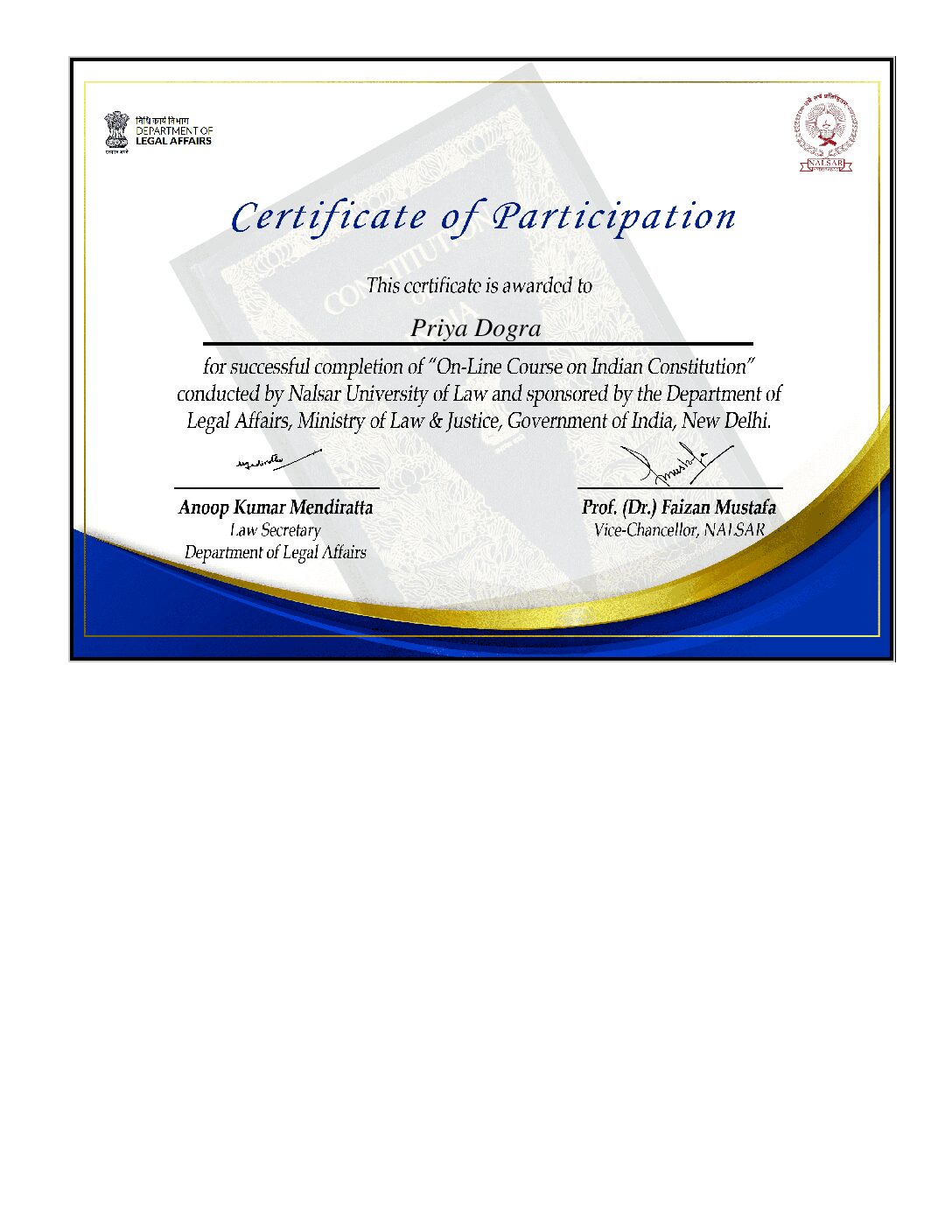 Online Course on Indian Constitution by Department of Legal Affairs, Ministry of Law & Justice, Government of India- Free Government Certificate
Hey students! Are you looking to learn about the Indian Constitution in detail? If yes then the NALSAR University of Law has brought a free online course for law students. An initiative of the Department of Legal Affairs, Ministry of Law & Justice, Government of India, New Delhi
in collaboration with NALSAR University of Law, Hyderabad. This course is related to the Constitution of India.
About NALSAR :
The National Academy of Legal Studies and Research (NALSAR) was established in 1998 by a Statute of the State of Andhra Pradesh. Since its inception, the University has been home to vital conversations on law and justice. These conversations have acknowledged that questions of justice arise in all legal pursuits whether in the world of courts, corporations, education or administration. Using law as an instrument of social change the University has supported crusades for land rights, disability empowerment and against moral policing and hate speech. NALSAR is committed to the creation of an ethical legal culture, which protects and promotes the rule of law. The social justice agenda is no laughing matter but the University believes that the cause of building a rule of law society is a continuous enterprise, which is sustainable if it is undertaken with optimism and good cheer.
About the Course :
The course seeks to familiarise with the text of the Constitution and leading cases, identify the fundamental policy choices incorporated in the Constitution, examine the historical revolution and understand the post independence constitutional journey, through a series of 15 conceptual videos. I appeal to each citizen of this country to register and enrol for participation, in this 'online course on Constitution' as a part of Azadi Ka Amrit Mahotsav celebrations.
Eligibility:
Anyone who has passed class tenth or currently studying in the tenth standard can also enroll for this course.
Course Duration
This online course has 15 conceptual videos and the first video lecture shall be available upon registration. Once the previous video is completed the next video will be available in a progressive way. These videos shall be available for a period of 6 months from the date of registration.
Certifications
To receive a digital certifications candidates must:
a) Registration is free for accessing the lectures
b) Watch all 15 videos
c) Opt for the online assessment which consists of multiple choice questions (MCQs)
d) The online assessment is available only for 10 days after completing the last video
e) "Certificate of Participation" for all the registered students for free after completion of all the videos
f) "Certificate of Appreciation" for all the registered students who have taken the assessment AND scored less than 60%
g) "Certificate of Merit" for all the registered students who have taken the assessment AND scored more than 60%
Fee: Candidates can take the online assessment for Rs 100/- after completion of videos.
APPLY FOR THE COURSE AND GET FREE GOVERNMENT CERTIFICATE : CLICK HERE
Follow All the Social Media Channels for latest updates on Courses, Certifications , Jobs , Internships and Jobs