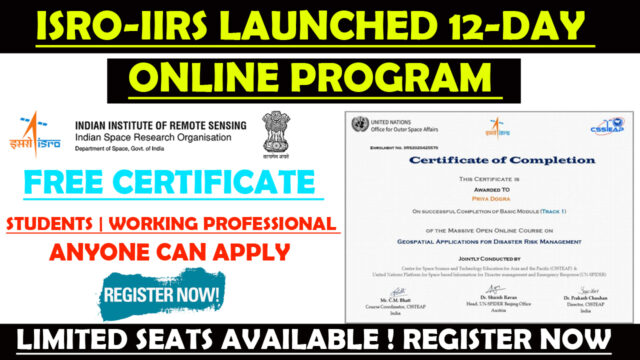 ISRO Free Course with Certificate | ISRO -IIRS Free Certification Program | 12- Day Program by ISRO
Course Name : Satellite based Navigation A Journey from GPS to Mobile Phone Platform March 1 – March 12, 2021
About the Course:
Today large amount of geo-spatial data acquired from various sources and processed for various earth resources studies. These geo-spatial datasets for processing require secondary data in the form of geo-tagged samples, GCPs and ground based large scale maps. Now a days geotagged samples, GCPs and ground based large scale maps can be acquired using GNSS technology. In present
scenario GNSS have various measurement and positioning techniques which can be applied as per requirement in different applications. Apart from its applications in precise positioning GNSS has applications in various areas like TEC estimation & Earth quake studies, Atmospheric studies and Mobile GIS etc.
The present course is designed in such a way that first week lectures are dedicated to the basic information about the GNSS leading to studies carried out in different areas in second week.
Attend this training program on Satellite based Navigation Technology: A Journey from GPS receivers to mobile phone. Course scheduled from March 1-12, 2021.
Course study materials like lecture slides, video-recorded lectures, open-source software & handouts of demonstrations, etc. will be made available through e-class. Video lectures will also be uploaded on e-class.
Course Fee: There is no course fee for attending this programme
Course Study Material :
Introduction to GNSS
Satellite Based Navigation Systems (IRNSS etc)
GNSS Measurement and Positioning Techniques
GNSS Receivers GNSS Errors
Satellite based Augmentation System (GAGAN etc)
Application of GNSSin location based services
Application of GNSS in Geosciences
Application of GNSS in Atmospheric Studies
Advanced GNSS data processing
Award of Participation Certificate :
Working Professionals and Students will get certification : Based on 70% attendance