Quiz on 76 Years of India's Freedom & Contribution of Freedom Fighters In Our Independence
In order to foster a sense of patriotism among youth and the general public, the Ministry of Defence will coordinate with MyGov.in to host an online quiz competition on the topics of "76 years of India's Freedom- Aazadi Ka Amrit Mahotsav" & "Contribution of Freedom Fighters in India's Independence" from July 26 through August 10, 2023.
Salient features:
(i) The quiz will in bilingual format i.e. in Hindi and English
(ii) Duration of the quiz will be 5 minutes (300 seconds), during which a maximum of 20 questions can be answered.
(iii) There will be ten cash prizes i.e. First, Second, Third and Seven consolation Prizes as under:-
(a) 1st Prize Rs. 25,000/-
(b) 2nd Prize Rs. 15,000/-
(c) 3rd Prize Rs. 10,000/-
(d) Consolation Prizes (Seven) Rs. 5,000/- each
(iv) All participants will be issued an online generated certificate by MyGov.in.
Independence Day Govt Certificate | Quiz on 76 Years of India's Freedom & Contribution of Freedom Fighters In Our Independence | FREE Government Certificate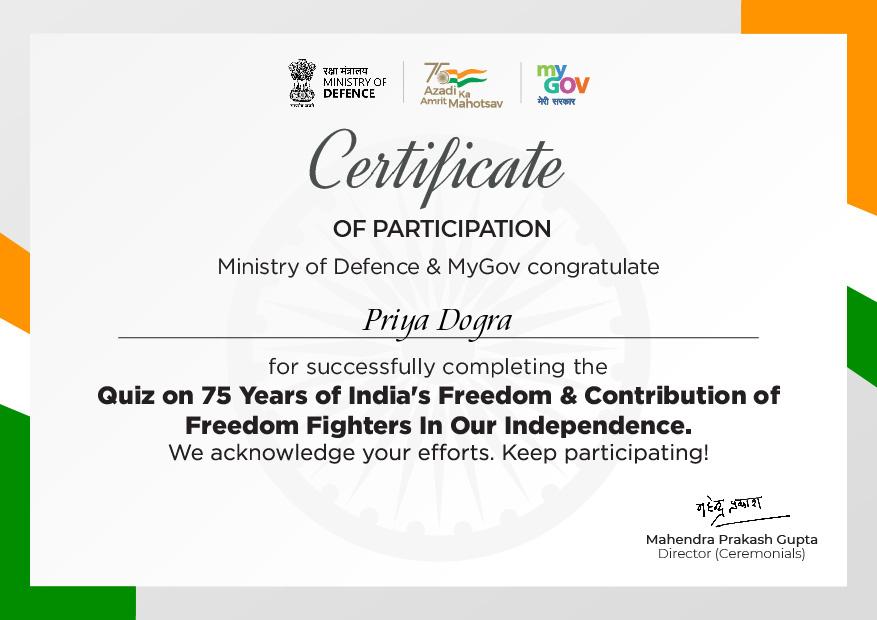 Ministry of Defence Govt Certificate