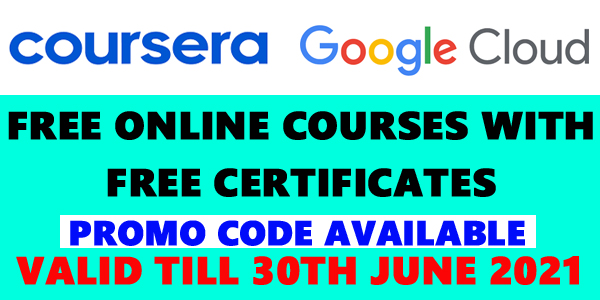 Coursera is offering Free Certification Course on Migrating to Google Cloud. This Premium Course is from Google Cloud Training . This special course is from world-class experts is now free to learners in India. You can Start learning it. Your discount to earn a free certificate will be applied at checkout.
Offer Valid till 30th June 2021
About the Course :
This course introduces participants to the strategies to migrate from a source environment to Google Cloud. Participants are introduced to Google Cloud's fundamental concepts and more in depth topics, like creating virtual machines, configuring networks and managing access and identities. The course then covers the installation and migration process of Migrate for Compute Engine, including special features like test clones and wave migrations.
Assess the source environment and identify potential virtual machines to migrate
Recall Google Cloud's fundamental concepts and deploy virtual machines and global networks
Set up and migrate virtual machines from On-Premises or AWS to Google Cloud
Leverage the elasticity and globalization of the cloud with automation and load balancers
Total Modules : 2
Certification Availability : Yes
Enroll for other Google Cloud Free Certification Courses from Coursera :