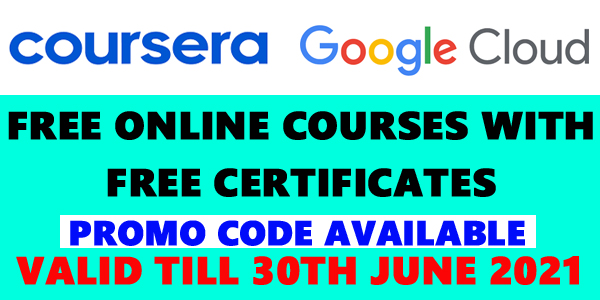 Coursera is offering Free Certification Course on Google Cloud Platform Fundamentals for AWS Professionals . This Premium Course is from Google Cloud Training .  This special course is from world-class experts is now free to learners in India. You can Start learning it. Your discount to earn a free certificate will be applied at checkout.
Offer Valid till 30th June 2021
Learning Objectives : This course teaches participants the following skills:
● Identify GCP counterparts for Amazon VPC, subnets, routes, NACLs, IGW, Amazon EC2, Amazon EBS, auto-scaling, Elastic Load Balancing, Amazon S3, Amazon Glacier, Amazon RDS, Amazon Redshift, AWS IAM, and more
● Configure accounts, billing, projects, networks, subnets, firewalls, VMs, disks, auto scaling, load balancing, storage, databases, IAM, and more
● Manage and monitor applications
● Explain feature and pricing model differences
● Locate documentation and training.
Prerequisites : To get the most of out of this course, participants should have basic proficiency with networking technologies like subnets and routing. Students are also expected to have experience with Amazon VPC, Amazon EC2 instances, and disks. Familiarity with Amazon S3 and AWS database technologies is recommended.
Total Modules : 9
Certification Availability : Yes
Enroll for other Google Cloud Free Certification Courses from Coursera :