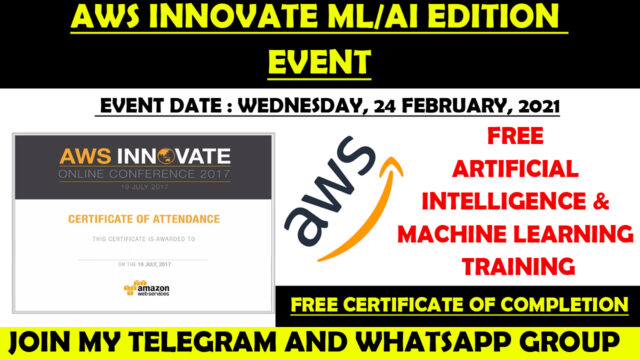 AWS Innovate AI / ML Edition 2021 | Free Machine learning & Artificial Intelligence Training & Certification
Accelerate innovation, scale effortlessly, and unlock new possibilities with machine learning on AWS.Get inspired and learn how you can use machine learning to drive better experiences, streamline operations, and reduce risks, and walk away with the ability to implement these projects for your organization. Dive deep into any of the 50+ business and technical sessions led by AWS experts as they share the latest innovations in AI/ML, key concepts, business use cases, architectural best practices, and answer your questions live.

India GMT+5.30 (IST)
Timing 1: 5.30am – 10.30am
Timing 2: 11.00am – 4.00pm
Session levels designed:
Level 100
Sessions are focused on providing an overview of AWS services and features, with the assumption that attendees are new to the topic.
Level 200
Sessions are focused on providing best practices, details of service features and demos with the assumption that attendees have introductory knowledge of the topics.

Level 300
Sessions dive deeper into the selected topic. Presenters assume that the audience has some familiarity with the topic, but may or may not have direct experience implementing a similar solution.

Level 400
Sessions are for attendees who are deeply familiar with the topic, have implemented a solution on their own already, and are comfortable with how the technology works across multiple services, architectures, and implementations.