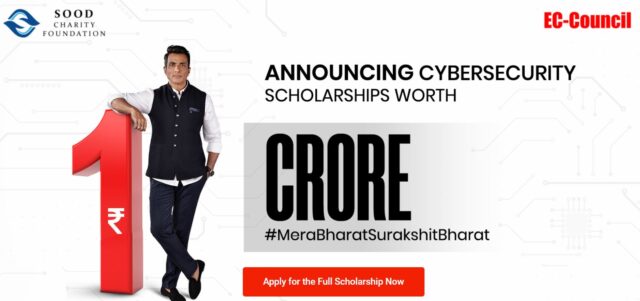 Sonu Sood Offers Cyber Security Scholarships worth Rs 1 crore |EC Council Certified Cybersecurity Technician Program for Free
Dear Students , A golden opportunity for all of you is here ! Sonu Sood Charity Foundation is offering Cyber Security Scholarships for students / enthusiats to gain right skills in this field and get certified from the best security training and certification provider "EC-Council ". So go ahead get all the details below and apply for it
About the Campaign :
Sood Charity Foundation, in association with the EC Council, is offering an exclusive program for cybersecurity scholarships. Through this program scholarships upto Rs. 1 crore will be offered to help cybersecurity enthusiasts build their careers and develop skills.
The key objective behind this initiative is to create a national-level program for students or enthusiasts who want to build their career in tech and cybersecurity. With this learning, they can gain job-oriented skills without spending a fortune.
With the intention of spreading the message of "Mera Bharat, Surakshit Bharat," Sood Charity Foundation and EC-Council will help in developing a future-ready cybersecurity workforce to protect individuals or organizations in the country from cyberattack.
About the course :
Sood Charity Foundation, in association with EC Council is providing Cybersecurity Scholarship for the EC-Council Certified Cyber Security Technician (CCT) program. The Certified Cybersecurity Technician (C|CT) is an entry-level cybersecurity program created by EC-Council, the creator of the Certified Ethical Hacker (C|EH) certification, to address the global demand for a qualified cybersecurity workforce.EC-Council developed the C|CT to provide individuals starting their careers in IT and cybersecurity with a certification that validates their hands-on technical skills.To equip individuals with the skills they need to pursue and develop their careers as cybersecurity specialists, consultants, network engineers, IT administrators, and more.
Key Points of the course :
Strong Foundational Coverage
The C|CT certification provides total foundational cybersecurity domain coverage with key concepts in each domain combined with practical hands-on labs and critical thinking challenges producing world-class cyber security technologists.
Live Range Experience
Other popular programs rely on simulation and interactivity as practical-based assessment, the C|CT program is delivered on a live Cyber Range utilizing live targets and real attack systems for a truly immersive, real-life practice and assessment platform.
Capture the Flag
The C|CT certification offers capture the flag (CTF) style critical thinking challenges to accompany each lab exercise putting knowledge into practice and providing a proven record of skill demonstration. Candidates completing the C|CT program will earn the C|CT certification and have a proven track record of performing the tasks required in a live Cyber Range, proving to employers their ability to perform critical job duties.
Multiple Certifications
The course outline of the C|CT program goes above and beyond some of the more common entry-level cybersecurity programs, such as the Security+, in a completely hands-on cyber range environment instead of simulations to ensure cybersecurity skills development. We believe that candidates who successfully attain the C|CT certification will attain other leading cybersecurity certifications, including Security+, without further training
Most Affordable
Despite the unique design of the heavily hands-on course and its uses of real-world cyber range capability, the certification is one of the most affordable in the world!
Eligibility :
Only Indian Citizen from age 18-35 years are allowed to apply for this campaign.
How to Apply for This Scholarship :
01: Apply
Fill out the application form on this page.
02 : Get Accepted
If your application is accepted, you will receive an email from EC-Council within 30 days of application.
03 : Enroll
Our training consultant will guide you through the enrollment process, and you will start your program soon.
GET COMPLETE DETAILS ABOUT THE CAMPAIGN : CLICK HERE
TERMS AND CONDITIONS : CLICK HERE
DETAILS ABOUT THE COURSE : CLICK HERE
APPLY FOR THIS SCHOLARSHIP : CLICK HERE