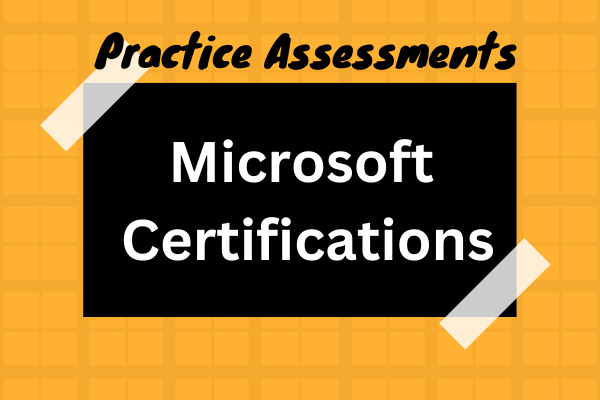 Practice Assessments for Microsoft Certifications
Are you preparing for a Microsoft Certification exam? We're excited to announce Practice Assessments on Microsoft Learn, our newest free exam preparation resource that allows you to assess your knowledge and fill knowledge gaps so that you are better prepared for your certification exam.
Below is a list of all the Practice Assessments available:
Note: We will be launching Practice Assessments for others exams soon.
Benefits
Set yourself up for success and boost your exam performance.
| Be fully prepared | Free | Close alignment with exam content | Ease of access |
| --- | --- | --- | --- |
| Assess your knowledge and prepare for your certification exam. Receive a score report that provides the answer, rationale, and links to additional information for every question. | Practice Assessments are available at no cost and can be attempted as many times as desired. | Created by the same team that develops our certification exams, Practice Assessments are updated in step with certifications to keep them relevant and up to date. | Access Practice Assessments on Microsoft Learn. Simply sign in to your Microsoft Learn profile or create an account before taking a Practice Assessment. |