Uppsala Monitoring Centre (UMC) is an independent centre for drug safety and scientific research working for a world where the safe and effective use of medicines is commonplace. Uppsala Monitoring Centre, located in Uppsala, Sweden, is the field name for the World Health Organization Collaborating Centre for International Drug Monitoring
What are the aims of the Uppsala Monitoring Center :
Making medicines safer for patients
Protecting patients from harm : They collect and analyse data from most countries around the world to make sure appropriate standards and systems are in place to prevent unnecessary harm to patients
Leading the way in drug safety : UMC pushes the boundaries of pharmacovigilance to explore the benefits and risks of medicines to help patients and clinicians make wise therapeutic decisions.
WHODrug Global : The world's most widely consulted drug dictionary is used by the pharmaceutical industry and regulatory authorities to monitor the safety of medicines throughout their life cycle.
Working for a better world : In their role as a WHO Collaborating Centre, they are provide training, guidance and support to countries in the WHO Programme for International Drug Monitoring.
So this was a brief description about the platform. Guys you will get free certification Course on Pharmacovigilance . This Certificate Course is important to all the pharmacy students . As the Course is developed according to the international norms so is verified to use in your resume .
About the Course :
This course covers basic concepts as well as the history, need, aims and scope of pharmacovigilance. It serves as an introduction for anyone with an interest in pharmacovigilance.
There are two modules in this course :
Instructions
Introduction to pharmacovigilance
After the completion of this module, you will be able to:
✓ define pharmacovigilance and related concepts/terms commonly used
✓ mention some key events that contributed to the development of pharmacovigilance
✓ recognise the limitations of clinical trials and describe the burden of ADRs
✓ list the major aims of pharmacovigilance
✓ explain how the scope of pharmacovigilance has widened over time and provide examples of drug-related problems other than adverse effects.
Here is the certificate sample :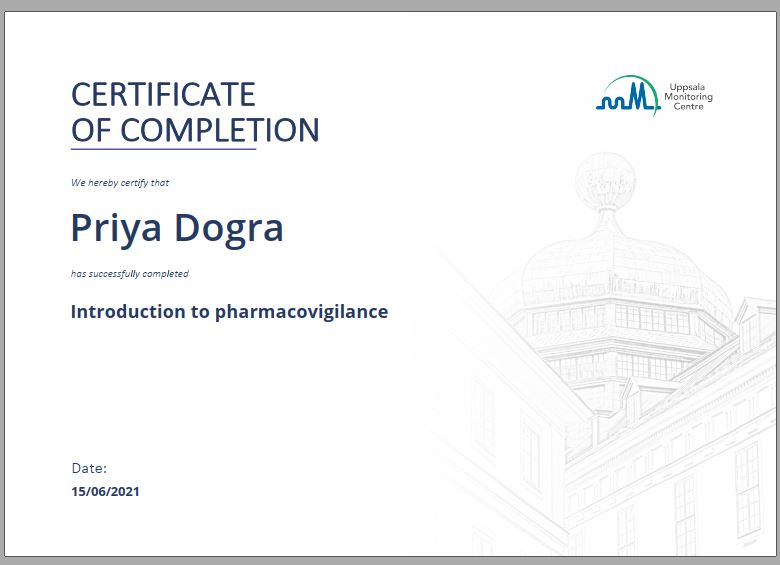 Other Important Posts :