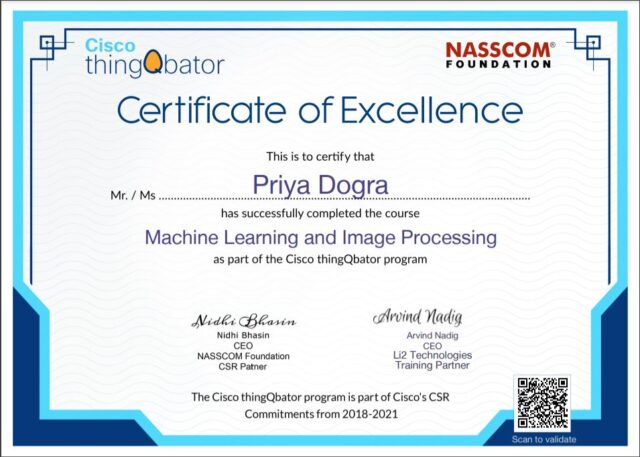 Nasscom Free Machine Learning Certificate | Cisco Thinqbator | Learn Machine learning in 5 minutes
About the course :
Hey everyone !! Cisco and Nasscom are proving free Machine learning Courses with Certificates in Collaboration. Here are the details Check it out
Machine Learning and Image Processing
Be creative with Cisco thingQbator's FREE Course on Machine Learning and Image Processing. Integrate image processing applications with custom ML algorithms.
Let's learn… lets Machine Learn… Play with images and bring out your creative side. Integrate your image processing applications with a custom Machine Learning algorithm. Swim through the vast ocean of data, fill up your bucket with what you need and pour it into your Machine Learning algorithm. Teach your machine to make decisions and observe patterns in real-world scenarios.
COURSE CURRICULUM
Machine Learning in 5 minutes
Play with Images
Work with Images
Teach images to a baby machine
Teach images to an expert machine
Quiz
Eligibility :
Undergraduate / Postgraduate students can apply
Students who want skills in the field of machine learning
Anyone looking for machine learning nasscom certificate
Certificate: Yes you will get a verified certificate from NASSCOM and CISCO Thinqbator
GET ALL THE DETAILS: CLICK HERE
Checkout the Quiz Answers : CLICK HERE
Don't Miss out on this opportunity: CLICK HERE
FOLLOW MY SOCIAL MEDIA CHANNELS, TELEGRAM CHANNEL, AND WHATSAPP GROUP FOR THE LATEST UPDATES ON FREE COURSES, CERTIFICATIONS, SCHOLARSHIPS, INTERNSHIPS, AND JOBS