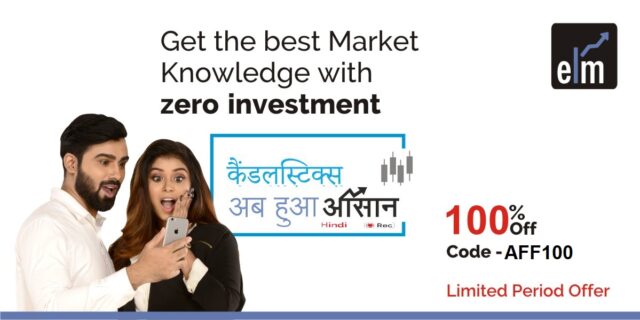 Candlesticks Ab Hua Aasaan -Elearnmarkets Free Course | 100% Coupon Code Available
Listed In : Technical Analysis
Language : Hindi
Difficulty : Basic
Validity : 3 Years
Program : Self-Paced Recorded
Instructor : Kredent Academy
COURSE HIGHLIGHTS
15 videos
Reference links to stocks
Certificate of completion
INTRODUCTION
Japanese candlestick charts were created with the goal of showing the relationship between market prices as well as the supply and demand of various financial instruments. Today, these charts are used by traders in trading all kinds of financial instruments like stocks, forex, commodities etc. The patterns are easy to recognize and understand.
They provide more information about the relationship between buyers and sellers over a specific time frame than traditional charts and also help them understand market sentiment. Traders can also identify whether the market is bearish or bullish. They can also identify market reversals and trend direction.
BENEFITS
This course will help students to understand:
Creation and interpretation of candlestick charts.
Understanding the Characteristics of Candlestick Charts in Technical Analysis
Various candlestick patterns like single and multiple candlestick patterns
Various Bullish and Bearish Reversal Candlestick Patterns
How to use these candlestick patterns when trading?
APPLY FOR THE COURSE: CLICK HERE
Don't Miss out on this opportunity: CLICK HERE
FOLLOW MY SOCIAL MEDIA CHANNELS, TELEGRAM CHANNEL, AND WHATSAPP GROUP FOR THE LATEST UPDATES ON FREE COURSES, CERTIFICATIONS, SCHOLARSHIPS, INTERNSHIPS, AND JOBS