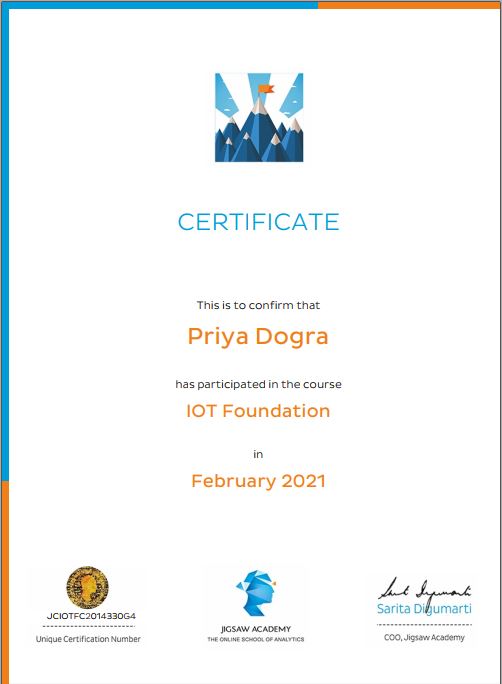 Quiz 1 :
Quiz – IOT for beginners
Question 1: Which communication protocols are expected to dominate IoT deployment in the years to come?
Bluetooth
Zigbee
Cellular (3G, 4G/LTE, 5G)
Cellular and LPWAN
Question 2: Which of the following is a private IP address?
12.0.0.1
168.172.19.39
172.15.14.36
192.168.24.43
Question 3: What layer in the TCP/IP stack is equivalent to the Transport Layer of the OSI mode?
Application / Process
Host-to-host
Internet
Network access
Question 4: Bluetooth supports
Point-to-point connections
Point-to-multipoint connections
Both Point-to-point connections and Point-to-multipoint connections
None of the above
Question 5: What is the Internet of Things?
Collection of websites
Network of physical objects embedded with electronics, software, sensors and connectivity
Series of physical things embedded with electronics, software, sensors and connectivity
None of the above
Question 6: What is the most common current deployment of IoT technologies?
Home automation devices
Smart metering
Sensor networks
Connected cars
Question 7: Bluetooth uses
Frequency-hopping spread spectrum
Orthogonal frequency-division multiplexing
Time-division multiplexing
None of the above
Question 8: Gathering data from multiple devices is called
Data harvesting
Data analysis
Data storage
None of the above
Question 9: A number of devices connected to the IoT have to connect automatically. How is this done?
Bot-to-bot communication
Skynet
Machine-to-machine communication
Intercloud
Question 10: Bluetooth is the wireless technology for
Local area network
Personal area network
Both Local area network and Personal area network
None of the above
Question 11: Which of the following services uses TCP?
HTTP
SMTP
FTP
All of the above
Question 12: Zigbee's extended addressing is
16 bit
32 bit
64 bit
128 bit
Quiz 2:
Quiz IOT for Security
Question 1: Boot loader consists of ____ number of components.
4 components
2 components
3 components
5 components
Question 2: Process of identifying any individual
Auditing
Authorisation
Authentication
Accounting
Question 3: ___ is where you falsely direct the hackers or attackers to different nodes than hitting the original servers.
Honeypot
Botnet
Stuxnet
Man-in the middle
Question 4: In the security parlance the fundamental three pillars of security are
Cognition, integration and application
Confidentiality, integrity and application
Confidentiality, integrity and availability
Cognition, integration and availability
Question 5: ____ gives an exact, up to the second state of all devices on a network.
Signaling
Security
Presence detection
Power consumption
Question 6: Which of the following is not the component of IoT Endpoint
Sensor
Gateway
Communication Module
MCU
Question 7: Which of the following is not a correct way to secure communication layer
Cloud initiated communication
TLS/SSL
IPS(Intrusion Prevention System)
Firewalls
Question 8: What is the first line of defence when setting up a network?
Physically secure a network
Configure an authentication
Configure encryption
Configure an ACL
Question 9: The issue with IOT devices are that they are networked and data is very open and can be manipulated because:
work on low communications with no low intensity of data
connecting legacy assets not inherently designed for IoT connectivity
it is challenging to implement cryptography and encryption techniques to secure the data
none of the above
Question 10: What are the major Privacy and Security Issues in case of Internet Of Things (IoT)?
Privacy compromise leading to exfiltration of identifying or other sensitive information
Adapting to regulatory requirements and improving performance
Intelligent connection of people, process, data, and things.
Cloud integration and process improvement
Question 11 : What kind of electronic document contains a public key?
SMTP
Digital certificate
PAN
Biometrics
Question 12 : ______ protocol is used to establish a strongly secured network based communication as it provides strong authentication for client as well as server.
Question 13 : In cryptography, what is cipher?
encrypted message
both algorithm for performing encryption and decryption and encrypted message
algorithm for performing encryption and decryption
none of the above