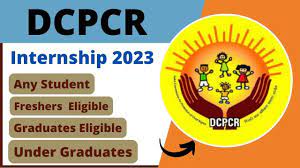 Delhi Commission For Protection of Child Rights (DCPCR) strongly believes in harnessing the power of our youngsters and takes measures to engage with them by means of their involvement in public service. We believe this is the only way a nation can develop rooted in ideals of justice, and basic dignity for all.
Therefore, the Commission offers internships across divisions and themes to youngsters. Interns typically support the Commission in background research, field visits, data analytics, preparing policy briefs/summaries, drafting letters/notices/summons, preparing minutes of the meetings, and documentation-related support including social media amongst others. Full-time interns are provided with a modest stipend in addition to official travel-related reimbursements.
Commission also provide remote internship(Part-time) for people who want to work from home. These interns usually do research work under their reporting manager and any other task as may be assigned by the Commission. Part-time interns are not provided with any stipend.
Important points before Applying :
Application does not mean acceptance or guarantee of the internship. There is no application deadline and we process applications on a rolling basis.
Please allow at least 3 weeks of processing time before doing any follow-up on the application.
By means of application you undertake any discrepancy in the application form shall be your sole responsibility and shall be liable to termination of the internship or adverse remark.
DCPCR is an equal protection workplace and assures that no discrimination on any ground including but not limited to gender, religion, caste, economic status, sexual orientation, political beliefs, and disability is tolerated.
If you are facing charges/inquiries/proceedings, whether departmental, institutional, police, or judicial, then you must disclose it in the application form itself.
GET DETAILS AND APPLY FOR THE INTERNSHIP : CLICK HERE