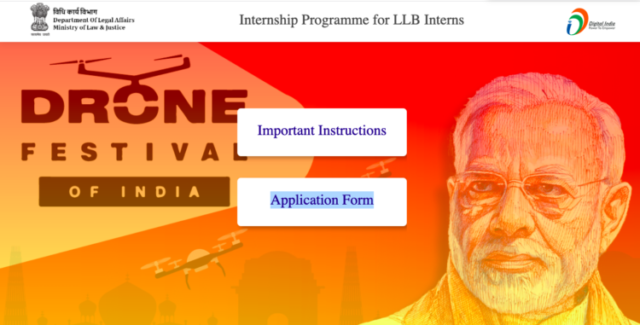 Department of Justice (DoJ) organizes Internship Programme for young law students for doing internship. The purpose of this Programme is to well acquaint young law students with the working of Department of Justice by giving training in the field of research & referencing work, in various specialized areas of justice delivery.
Eligibility :
Indian students who have completed 2nd year of study and have written the examination to enter 3rd year or studying in the 3rd year of three-year degree course or the students studying in the 4th year who have written examination to enter 5th year or studying in the 5th year of five-year degree course.
Duration :
Duration of internship ordinarily remain for a period of one month (four weeks). Monthly internship shall start from the month of June, 2023 onwards during the current financial year (FY 2023-24). The following three slots offered during the I" Phase (Summer Programme):
i. From 08.06.2023 to 07.07.2023.
ii. From 08.07.2023 to 07.08.2023 .
iii. From 08.08.2023 to 07.09.2023
Last date for applications for the 1″ Phase (Summer Programme):
The last date for receipt of application( online on website of the Department of Justice) will be as under:
Number of Internship students :
The maximum number of interns to be allowed in a given monthly slots will be 10 candidates only subject to requirement of the Department.
Stipend :
The interns shall be given an honorarium of Rs.5000/-on completion of their internship
Certificate :
On satisfactory completion of internship, a Certificate of Internship shall be awarded. For satisfactory completion inter-alia 90% attendance is mandatory. This is a full-time internship to be attended physically and the interns are not expected to pursue any other course/work during the tenure of internship.
How to Apply ?
The student willing to undergo internship program in Department of Justice may fill his/her application form to undergo internship programme in the Department of Justice along with relevant documents and No Objection Certificate from his /her respective college/university. The application form can be accessed on the website https://dashboard.doj.gov.in/internship of the Department of Justice. The students are
advised to fill up the form online and upload all the documents prior to the last date.