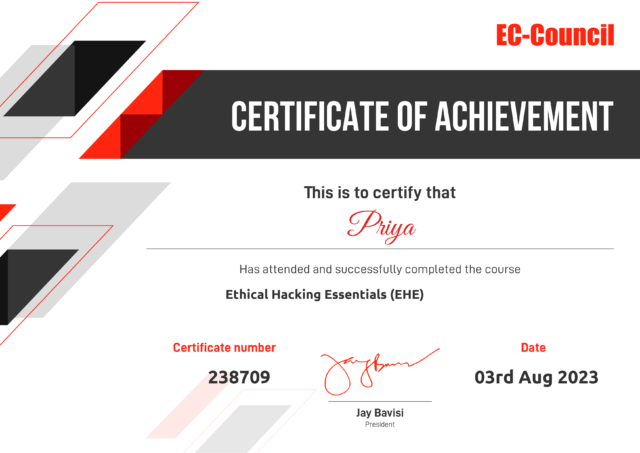 Certified Ethical Hacking Essential Course by EC Council | EC Council Free Courses with Certificate
About EC Council :
EC-Council's Essential Series is designed to help students, career starters, and tech professionals prepare and validate their skills for entry-level cybersecurity roles.EC-Council has trained and certified over 200,000 information security professionals globally for the past 20 years. Individuals who have achieved EC-Council certifications include those from some of the finest organizations around the world. EC-Council's ever-growing team of subject matter experts and InfoSec researchers continue to set the highest standards in cybersecurity education and build certifications and training programs
About the Course :
Ethical Hacking Essentials is an introductory cybersecurity course that covers ethical hacking and penetration testing fundamentals and prepares learners for a career in cybersecurity. This course will introduce learners to computer and network security concepts such as threats and vulnerabilities, password cracking, web application attacks, IoT and OT attacks, cloud computing, pentesting fundamentals, and more.
This course provides hands-on practical experience to learners thus giving them the skills necessary for a future in cybersecurity.
EHE-certified learners have an assured means of formal recognition to add to their resumes and show off their expertise and skills to prospective employers. This improves their prospects for employment advancement, higher salaries, and greater job satisfaction
What you will Learn :
Fundamentals of information security and ethical hacking
Information security threats and vulnerabilities, types of malwares, and vulnerability assessments
Password cracking techniques, tools, and countermeasures
Social engineering concepts, its phases, techniques, and countermeasures
Network-level attacks including sniffing, denial-of-service, and session hijacking, and their countermeasures
Application-level attacks including webserver exploitation, OWASP top10 attacks, and SQL injection and their countermeasures
Wireless encryption, attacks, and countermeasures
Mobile, IoT, and OT attacks, and countermeasures
Cloud computing threats and countermeasures
Penetration testing fundamentals, its benefits, strategies, and phases
Prerequisites:
A PC/Laptop with an Internet Connection.
Course Content :
Module 1 – Information Security Fundamentals
Module 2 – Ethical Hacking Fundamentals
Module 3 – Information Security Threats and Vulnerability Assessment
Module 4 – Password Cracking Techniques and Countermeasures
Module 5 – Social Engineering Techniques and Countermeasures
Module 6 – Network Level Attacks and Countermeasures
Module 7 – Web Application Attacks and Countermeasures
Module 8 – Wireless Attacks and Countermeasures
Module 9 – Mobile Attacks and Countermeasures
Module 10 – IOT & OT Attacks and Countermeasures
Module 11 – Cloud Computing Threats and Countermeasures
Module 12 – Penetration Testing Fundamentals
Certification :
You will get Free Certification from EC Council after Completing the Course.
GET COMPLETE DETAILS AND APPLY : CLICK HERE