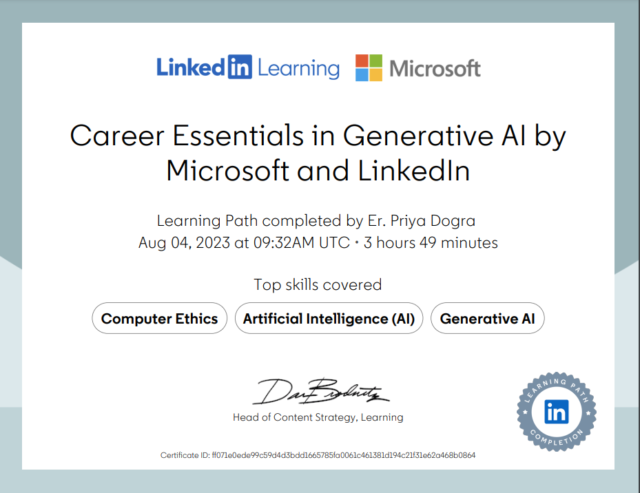 Career Essentials in Generative AI Certification Course by Microsoft and LinkedIn
Linkedin and Microsoft is offering a free certification course on Artificial Intelligence where you can apply , and get a professional certification for Free ! Get Complete Details Below and apply :
About the Course :
Discover the skills needed to apply generative AI in your career. Learn the core concepts of artificial intelligence and generative AI functionality.
In this course, generative AI expert Pinar Seyhan Demirdag covers the basics of generative AI, with topics including what it is, how it works, how to create your own content, different types of models, future predictions, and ethical implications.
Highlights of the Course :
Develop an understanding of generative AI models.
Learn the ethical considerations of using generative AI.
Explore the impact of generative AI tools.
Course Content :
Course 1 : What Is Generative AI?
Course 2 :Generative AI: The Evolution of Thoughtful Online Search
Course 3 :Streamlining Your Work with Microsoft Bing Chat
Course 4 :Ethics in the Age of Generative AI
Course 5 :Introduction to Artificial Intelligence
Certification :
This learning path is eligible for a Professional Certificate from Microsoft and Linkedin
GET COMPLETE DETAILS AND APPLY : CLICK HERE