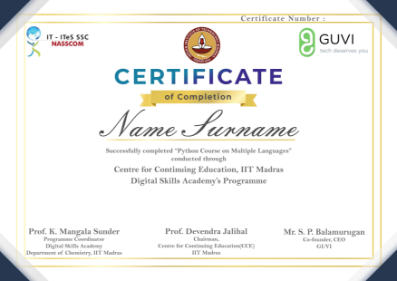 Hello Students , Here is a great opportunity for you ! IIT Madras and GUVI has introduced a free certification course on Python . You can Master the fundamentals of Python and learn to Develop programs to gather, clean, analyze, and visualize data with IIT Certification.
Description
Whether you have never programmed before, already know basic syntax, or want to learn about the advanced features of Python, this course is for you! This course will give you that core, solid understanding of the Python programming language. You will not only be learning Python, but you will be learning industry best practices for Python programming that real employers demand.
Top Skills you will learn
Master the fundamentals of Python
Work with Lists and Tuples
Write Python functions for reusability
Work with JSON data
Use Python to Read and Write MS Excel file
Highlights
Certificate of Completion by IIT-Madras
Self Paced – 100% Online Learning
Lifetime Access
GUVI Forum Support
Codekata – Gamified coding Arena
Who should Enroll
Beginners with no previous programming experience looking to obtain the skills to get their first programming job.
Anyone looking to to build the minimum Python programming skills necessary as a pre- requisites for moving into machine learning, data science, and artificial intelligence.
Existing programmers who want to improve their career options by learning the Python programming language.
Job opportunities
Python Developer
Research Analyst
Data Analyst
Data Scientist
Software Developer
Certificate
IIT-M Certification is available on pay per basis.
Certificate is generated for every course individually.
Certificates are auto-generated, once payment has been made
GET DETAILS AND APPLY FOR THE COURSE : CLICK HERE