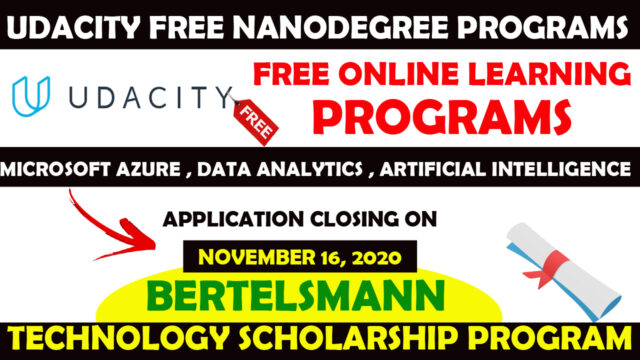 This scholarship is powered by Bertelsmann.
This application is for learners interested in any of the 3 scholarship focus areas: Data, AI, or Cloud.
Please fill out the questions below. We will review all applications and invite 15,000 top and maximum diverse applicants to participate in the challenge course for which they apply: Cloud, Data or AI. 1,600 students from the initial challenge courses will be placed into one of three Nanodegree programs. For more information, visit the landing page.
This program is open to Bertelsmann employees and the general public. You must be 18 years of age or older to participate in this program.
Bertelsmann's media, services and educational offerings make it a leader in many areas of the digital world. Accordingly, the company wants to empower as many people as possible to be successful in the digital world. Over a three-year period Bertelsmann is funding as many as 50,000 tech scholarships for students to learn with Udacity.
The second phase of the program, starting in September 2020, consists of a two-stage scholarship that's similar to the first phase of the program. The scholarship is open to any student, 18 years of age or older, interested in Cloud Computing, Data Science or Artificial Intelligence. Both Bertelsmann employees and the general public are encouraged to apply for one of the three tech learning paths: Cloud, Data, or AI.
When applications close on November 16, 2020, we'll review all entries and select 15,000 recipients to participate in the Cloud, Data, or AI Challenge Courses. This is where the learning begins! Recipients will spend 3.5 months learning key components for Cloud Computing, Data Analysis, or Artificial Intelligence. Top students from this initial phase will earn a full Nanodegree program scholarship.
There are 3 types of nanodegree programs offered :
Developer for Microsoft Azure
Predictive Analytics for Business
Click here to fill Application Form