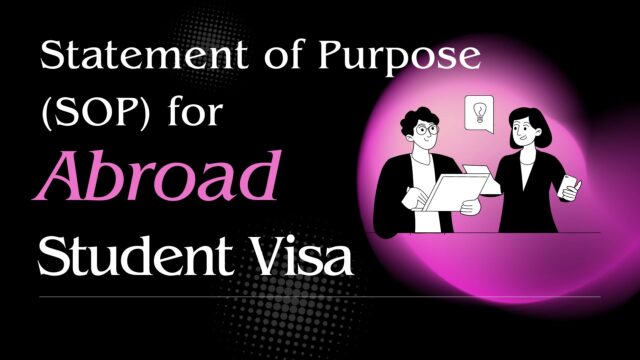 Statement of Purpose (SOP) for Student Visa
Sure! Here's a sample Statement of Purpose (SOP) for admission to a Canadian college. Please note that this is a general example, and you should tailor your SOP to your specific circumstances and the requirements of the college you are applying to.
Statement of Purpose for Student Visa in Canada, USA, UK and New Zealand
I am writing this statement to express my strong desire to pursue a [Program Name] at [College Name] in Canada. I believe that this program will provide me with the necessary knowledge, skills, and opportunities to advance my career in [Field of Study].
Ever since I was young, I have been fascinated by [Field of Study]. Its practical applications and ability to solve real-world problems have always intrigued me. As I progressed through my high school education, my interest grew further, and I realized that pursuing higher education in [Field of Study] is my true calling.
During my high school years, I excelled in subjects like mathematics, computer science, and physics, which enhanced my analytical and problem-solving abilities. I actively participated in extracurricular activities related to technology and volunteered at local organizations, which helped me develop teamwork, communication, and leadership skills.
After extensive research, I have found that the [Program Name] at [College Name] aligns perfectly with my academic and career goals. The comprehensive curriculum offered by the college covers a wide range of subjects, including [specific subjects or courses] that I am keen to explore. The emphasis on practical applications and industry exposure will provide me with hands-on experience and prepare me to tackle the challenges in the field.
Furthermore, I am particularly drawn to [College Name] due to its reputation for excellence in [Field of Study]. The state-of-the-art facilities, experienced faculty members, and vibrant research community will create a conducive learning environment for me to thrive. Additionally, the college's strong industry connections and internship opportunities will allow me to gain practical experience and network with professionals in the field.
I am eager to contribute to the academic community at [College Name]. Apart from actively participating in class discussions and group projects, I also plan to engage in research activities and join relevant student organizations to further enhance my learning experience. I believe that the collaborative environment at [College Name] will foster innovation, critical thinking, and personal growth.
In the long term, my goal is to make meaningful contributions to the field of [Field of Study]. I aim to work on projects that address real-world challenges and contribute to advancements in technology. With the skills and knowledge gained from the [Program Name] at [College Name], I am confident that I will be equipped to take on these challenges and make a positive impact in the industry.
I am grateful for the opportunity to apply for admission to [College Name]. I am confident that my passion, dedication, and strong academic background make me a suitable candidate for the [Program Name]. I am excited to immerse myself in the academic environment at [College Name] and make the most of the invaluable learning opportunities it offers.
Thank you for considering my application. I look forward to contributing to the academic community at [College Name] and achieving my academic and career aspirations.
Sincerely,
[Your Name]