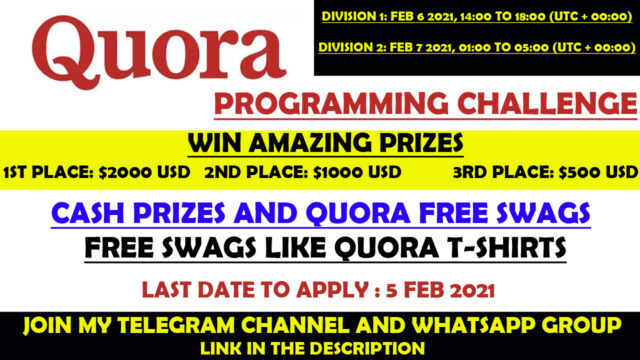 At Quora, they work on difficult programming challenges on a daily basis. With this they are sharing some of the interesting problems that they work on. Thus, they drew inspiration from real-world challenges in our product, systems, and machine learning applications to create an interesting set of algorithm problems that you'll enjoy.
Divisions
In order to accomodate a wide range of timezones, they will be holding the contest in two divisions. Each division will have its own unique set of problems and a separate set of winners and prizes. Participants can join one or both divisions.
The divisions will be held at the following times:
Division 1: Feb 6 2021, 14:00 to 18:00 (UTC + 00:00)
Division 2: Feb 7 2021, 01:00 to 05:00 (UTC + 00:00)
Top place finishers in each division will be awarded the following prizes:
1st place: $2000 USD
2nd place: $1000 USD
3rd place: $500 USD
4th to 10th place: $200 USD
Top 50 places: Quora T-Shirt
Rules
You may participate in one or both divisions of the contest.
After you register, we will send you the login information for the contest platform before the contest date.
Each division will feature 6 problems; each problem is scored out of 100.
Ties in score will be resolved by considering the timestamp of the final submission of each participant.
This is an individual competition. Please refrain from discussing solutions with anyone else during the contest.
Any case of code plagiarism will result in disqualification of all users involved from the contest.