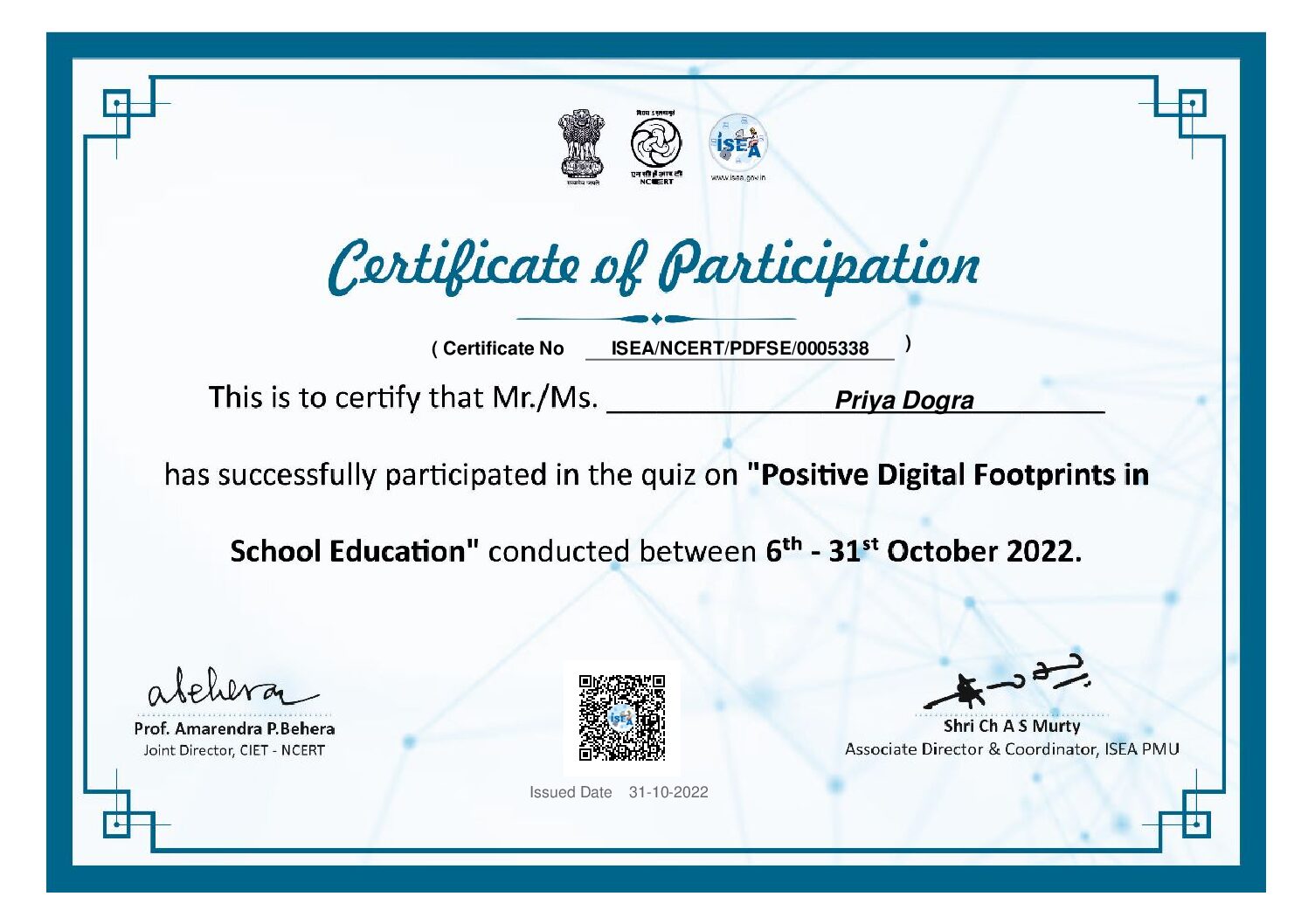 About the Quiz :
Positive Digital Footprints in School Education quiz is Organized by Central Institute of Educational Technology (CIET)National Council of Educational Research and Training, New Delhi, in collaboration with Information Security Education and Awareness( ISEA) ,a programme by Ministry of Electronics and Information Technology(MeitY), Govt. of India.
Terms and Conditions :
Please enter your name correctly as same will be displayed on certificate.
Users who scores 50% or above marks are eligible for getting certificate within maximum of 3 attempts.
Here are the Questions and Answers :
POCSO ACT stands for:
Protection of Children From Sexual Offences Act
Problem of Children from Sexual Offences Act
Protection of Child From Sexual Offences Act
Protection of Children From Sexual Offenders Act
What is the full form of I4C?
Indian Cyber Crime Coordination Centre
Indian Cyber Crime Control Committee
Helpline number to report Cyber Crime
1930
1960
Following someone to cause inconvenience or sexual harassment can be termed as:
Cyberbullying
Trolling
Cyberstalking
The trail that is created when a person uses the internet (computers, cellphones, gaming consoles etc) is called
Cyberbullying
Digital Footprint
Fair Use
Digital Citizenship
Anonymous online posts/comments can _ be traced back to the author.
Always
Sometimes
Never
Adding random or strangers people on social media is believed to be an example of
Positive Digital Footprint
Negative Digital Footprint
The social media handle by I4C for Cyber Safety and Awareness is
Cyberbuddy
Cyberdost
Everything that is posted online is saved for how long?
Until I remove it
Forever
Two weeks
One year
Anything you do online leaves a permanent record.
True
False
CLICK HERE TO APPLY : APPLY HERE