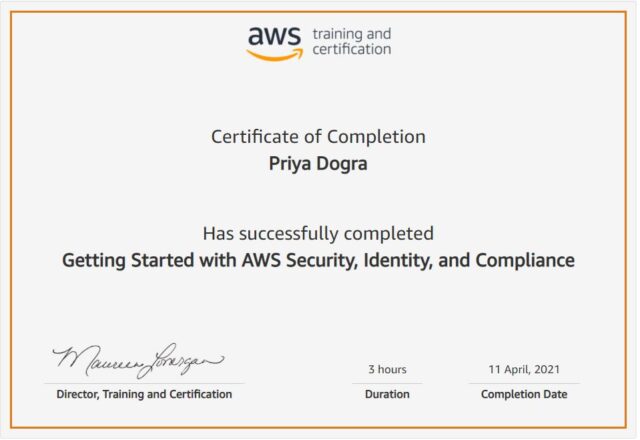 The Cloud Security Essentials pathway offers a hands-on learning experience using the AWS cloud security tool for detecting and responding to security threats.
What will you learn in this course?
This course gives an overall understanding of the AWS Cloud security fundamentals. Learn about AWS access control, data encryption methods, as well as how to secure your AWS infrastructure. Deep dive into the technical knowledge and leverage available security services to meet the security needs of your organization. At any point during the course, you can ask for help from AWS-accredited instructors.
DURATION10 Hours
SKILL TYPEEmerging Tech
COSTFree
PATHWAY/COURSESCourse
TYPE OF FORMATSelf Paced
INDUSTRYCloud Computing
COURSE CATEGORYIndustry and Govt. Approved
Why should you take this course?
With growing digitization, the need for cybersecurity has increased exponentially and consequently has the demand for skilled professionals. This 9-hour course on AWS Cloud Security is aligned with industry standards and validated by SSC NASSCOM. Learners will get a conceptual understanding of security essentials and gain a competitive advantage with government certification demonstrating your digital expertise.
Who should take this course?
IT professionals interested to learn about cloud security as well as security professionals with a basic understanding of AWS will benefit from this course.
If you already have a working knowledge of IT security practices or are familiar with cloud computing concepts, this cloud computing training will prepare you for SSC NASSCOM-validated certification.
Curriculum
The course establishes a foundational understanding of AWS security. Learners will be equipped to identify security benefits and responsibilities, access control and management features as well as secure network access to the AWS resources. Know the different encryption methods for securing sensitive data as well as for logging and monitoring.
You will learn cloud computing for the following cloud competencies, as certified by SSC NASSCOM –
Detection and communication of information security threats and risks (N8334)
Response to security threats and restoration of affected capabilities (N8335)
Continuous monitoring and maintenance of compliance standards across the organization (N8337)
Master the concepts and techniques of Cloud Security with this Cloud Security Essentials pathway from AWS, spanning over 10 modules.
Get started with AWS Security, Identity, and Compliance, understand the fundamentals and learn how to secure your AWS Cloud. Equip yourself with practical knowledge by working with AWS cloud security tools.
Intended audience
This course is intended for:
• IT business-level professionals interested in cloud security practices
• Security professionals with minimal working knowledge of AWS
• People new to AWS who want to develop an understanding of basic security concepts and services in the cloud
Prerequisites
• None 
Course outline
Section 1: Course Introduction
• Overview
• On Premises and the AWS Cloud
• Security in the AWS Cloud
• AWS Well-Architected Framework
Section 2: Identity and Access Management
• Authentication vs. Authorization
• AWS Identity and Access Management (IAM) for Access Management
• Amazon Cognito for Mobile Authentication
• AWS Directory Service for User Federation
Section 3: Detective Controls
• Monitoring Overview
• Amazon GuardDuty for Threat Detection
• AWS Security Hub for Prioritizing Findings
• Amazon Macie for Data Monitoring
Section 4: Infrastructure Protection
• Securing Your Compute Resources
• AWS WAF for Traffic Filtering
• AWS Shield for DDoS Protection
Section 5: Data Protection
• Encryption on AWS
• AWS Key Management Service (AWS KMS) for Key Management
• AWS Certificate Manager (ACM) for Securing Communications
• AWS Secrets Manager for Credentials Management
Section 6: Incident Response
• Rethinking Incident Response
• AWS Config for Responding to Incidents
Section 7: What's Next
• AWS Well-Architected Tool
• Next Steps
• Course Assessment
Tools you will learn in the course
Amazon Inspector
Amazon Macie
AWS Security Hub
Amazon CloudWatch & AWS Identity and Access Management (IAM)
Amazon EBS Volume Encryption
AWS Config
AWS Cloud Security Essentials Course Assessment Answers :
Also watch:
Artificial Intelligence Foundations Course by Skillup – Free NASSCOM Course Completion Certificate