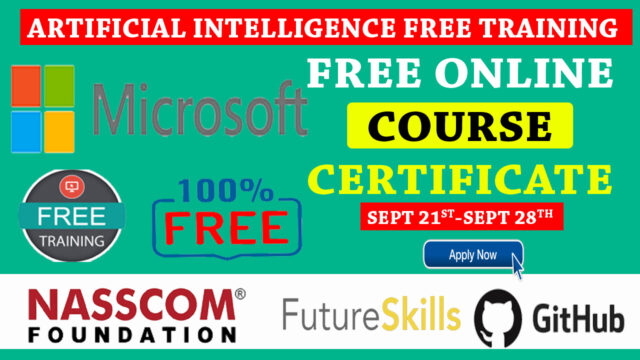 Microsoft has joined forces with NASSCOM FutureSkills® to deliver Microsoft's AI, machine learning and data science expertise to students through easy-to-consume modules including live demos, hands-on workshop and assignments.These online classes will be delivered through multiple sessions, at no cost to the students. Microsoft AI Classroom Series course content has been divided into 3 modules. Each module offers, multiple time slots to choose from, to help you plan your own learning pace.
About the program :
1) Microsoft AI Classroom series is an initiative by Microsoft in association with NASSCOM FutureSkills® and supported by GitHub to train 1M students over 12 months.
2) The AI Classroom series is divided into three easy to consume modules of 2.5 hours each; and includes live demos, hands-on experiments, and post session assignments to enable students to check their knowledge.
3) Each module will be introduced by leading data scientists and AI influencers; followed by 2 hours of learning session and 30 minutes of live Q&A with subject matter experts.
4) Two weeks of online support at no cost. Post the workshop series, students have access to online experts to address queries and to prepare for industry recognized AI certifications.
5) This program is open to students enrolled in Indian universities and are residents of India