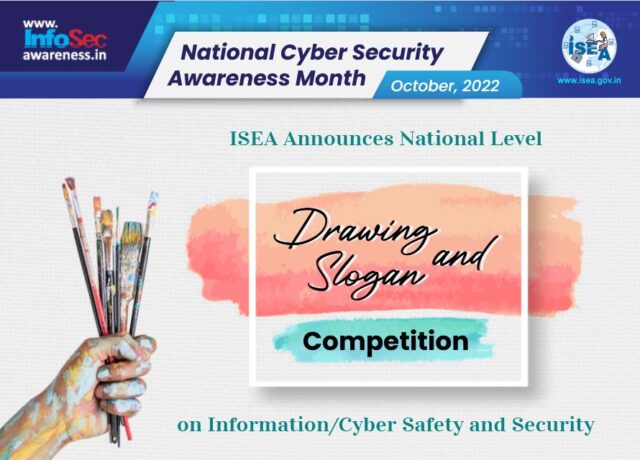 ISEA Launched National Level Competitions 2022 | Drawing & Slogan Competitions on Information and Cyber Security – Win Cash Prizes worth 1 lakh
About the Competitions :
Information Security Education and Awareness (ISEA) is a Ministry of Electronics and Information Technology (MeitY), GoI initiative with an objective of capacity building in the area of information security, training of Government personnel and creation of mass awareness on information security awareness targeted towards students, women, police and other user segments. The project is being implemented through fifty two (52) institutions for academic activities (4 ISRDCs, 7 RCs, 41 PIs including IISc, IIT's, NIT's) and CDAC Hyderabad as a coordinating agency for Awareness program.
Objective:
The objective to organize these competitions are to inculcate cyber hygiene practices among the Internet users.
Themes:
Information/Cyber Safety and Security
Cyber Bullying
Cyber Stalking
Password Protection
Online Predators
Internet Ethics
Revenge Pornography
Online Trolling
Enable Multi-Factor Authentication
Use Strong Passwords
Recognize and Report Phishing/Smishing/Vishing
Do not fall into any financial fraud trap
Update Your Software
Be cyber security aware on social media, etc. for more thematic concepts, visit: www.infosecawareness.in
Who can participate: open to all
Awards (cash prize/gift vouchers/gift articles):
National Level Certificates for all the prize winners.
Attractive prizes worth Rs. One Lakh across all categories
Best Works will be published in Newsletters/Magazines/Websites.
Winners will be announced at National Level on 31stOctober,2022
Prize (s)
Painting Competition
Cyber Security Slogan
Total amount
1st Place
Rs.15,000.00
Rs.5,000.00
Rs.20,000.00
2nd Place
Rs.10,000.00
Rs.4,000.00
Rs.14,000.00
3rd Place
Rs.8,000.00
Rs.3,000.00
Rs.11,000.00
4th Place
Rs.5,000.00
Rs.2,000.00
Rs.7,000.00
5th Place
Rs.3,000.00
Rs.1,500.00
Rs.4,500.00
Consolation Prizes
Rs.20,000(10 Nos *Rs.2,000)
Rs.10,000( 10 Nos *Rs.1,000)
Rs.30,000.00
Total Amount
Rs.85,000.00
5. Important dates (Time lines):
| Details | Date |
| --- | --- |
| Competition start date | 20th September,2022 |
| Last date for submission (drawing soft copies / cyber Security slogan) | 25th October,2022 |
| Hard copies should reach us (selected works only) | 30th October,2022 |
| Winners announcement | 31st October,2022 |
CLICK HERE TO APPLY : APPLY HERE