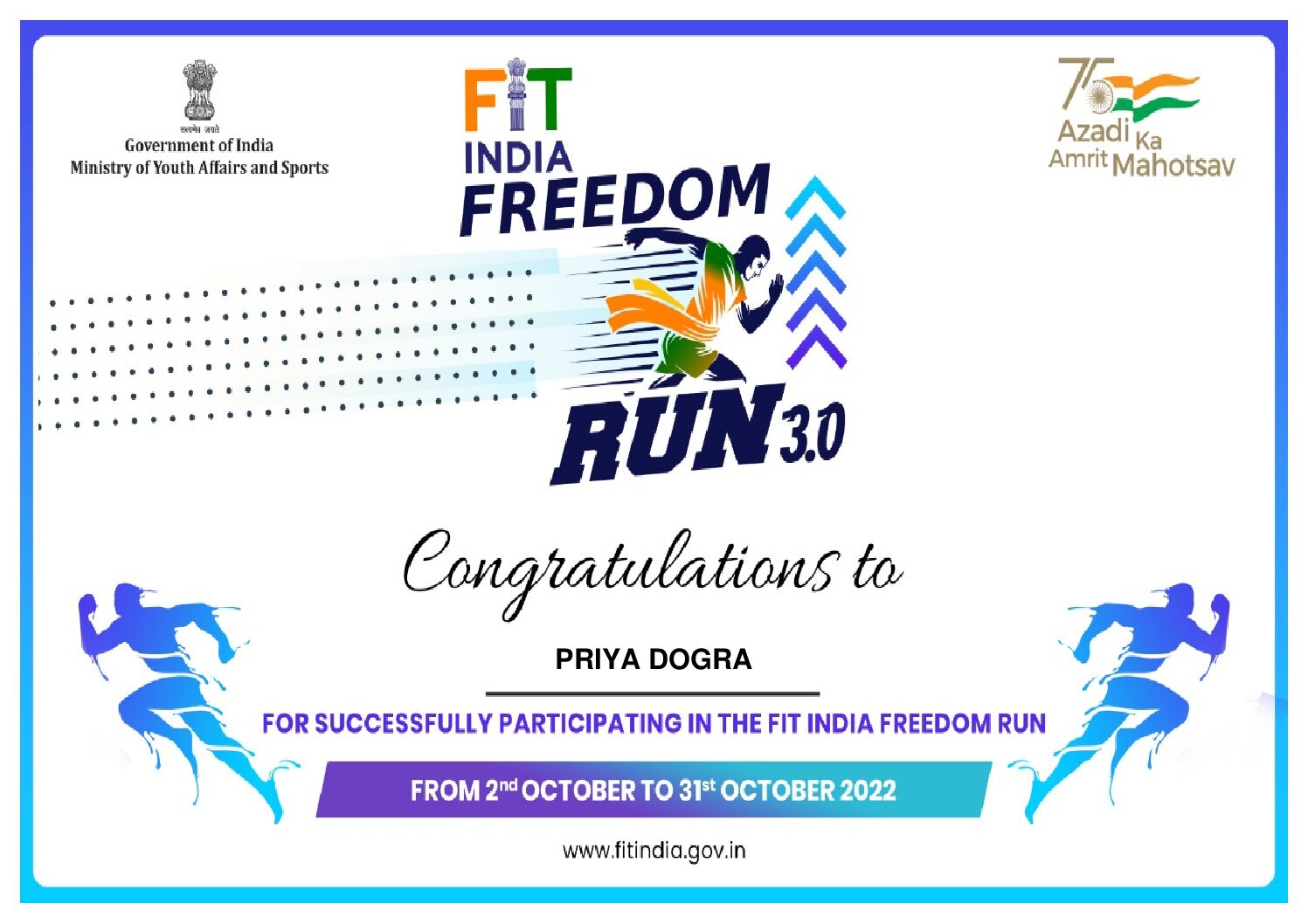 About the Initiative :
Fit India Mission in its endeavour to promote fitness and creating awareness amongst countrymen keeps coming with innovating fitness campaigns to indulge people in fitness activities. Fit India Mission converges with Swachh Bharat Abhiyan with Fit India Plog Run where fitness meets Swatchhta in a form of engaging fun-loving exercise is now entailed in Fit India Freedom Run culminating where we discover a litter free clean surroundings while running.
Objective of this Initiative :
The Fit India Freedom Run is yet another endeavour to strengthen the Fit Indian Movement and involve citizens to embrace fitness as a way of life. Participants will be allowed to run at their own place and at their own pace at a time convenient to them during campaign period. The concept behind this run is that "It can be run at anytime and anywhere!
The campaign has seen tremendous support from various stakeholders such as government, private organizations and individuals from all walks of life and demographics making it a truly people's campaign.
Important Dates :
This year, Fit India Mission has decided to organize the 3rd edition i.e. Fit India Freedom Run 3.0 from 2nd October to 31stOctober 2022 under Azadi Ka Amrit Mahotsav (AKAM) initiative. Citizens will be urged to inculcate 30 minutes of physical fitness in any form, celebrate achievements of active lifestyle and make a resolve to remain fit on the grand occasion of India's 75th Independence year completioni.e. "Azadi ke 75 saal, fitness rahe bemisaal".The campaign will kick-off with a Plog Run on 2nd October 2022 to celebrate Mahatma Gandhi's birth anniversary followed by running events for the remainder of the campaign i.e., till 31st October 2022.
Promote Fit India Freedom Run 3.0 on your social media channels by using #AzadiKaAmritMahotsav & #Run4India
Important Things :
Run a route of your choice, at a time that suits you.
Break-up your runs.
Run your own race at your pace.
Track your kms manually or by using any tracking app or GPS watch.
Create an event on Fit India Portal either as an individual or as an organiser as per your eligibility for any number of day(s) starting from 2nd October till 31st October
Can run any number of KM's (take a selfie or an photo and upload it while creating an event)
Mode of participation:
Registration to be done through Fit India website.
Certification :
Those who have undertaken their own run can Register as individual, submit their data and download the certificate.
DOWNLOAD YOUR CERTIFICATE : HERE