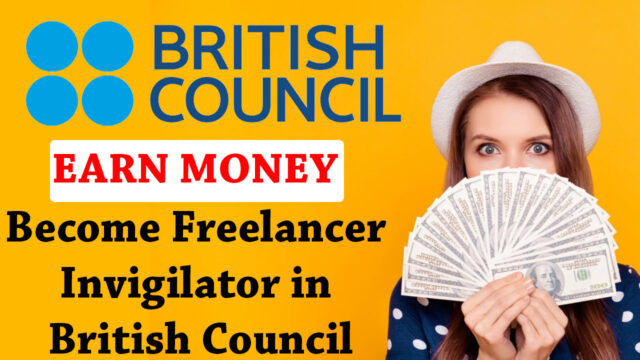 How to Become an Invigilator in British Council as Freelancer
Working for the British Council gives you a unique opportunity to gain experience and develop expertise in a global organization of worldwide reach and effect that is rapidly evolving. Jobs with the British Council offer opportunities for flexibility, commitment and innovation in an atmosphere of motivation and support.
British Council Jobs and Opportunities
BC Examinations and English Services India Private Limited is looking for motivated and energetic individuals with good communication skills to work as freelancers.
Job Location East India: Kolkata, Siliguri, Bhubaneswar, Guwahati, Raipur, Patna, Ranchi, Thimphu, Aizawl
Last Date to Apply: Thursday, 31 December 2020
Job Location North India: New Delhi, Amritsar, Bathinda, Chandigarh, Jalandhar, Ludhiana, Moga, Patiala, Jaipur, Lucknow, Rudrapur
Last Date to Apply: Thursday, 31 December 2020
Job Location South India: Chennai, Bangalore, Hyderabad, Vijayawada, Vishakhapatnam, Angamaly, Calicut, Thrissur, Cochin, Kottayam, Trivandrum, Coimbatore, Mangalore, Madurai, Trichy.
Last Date to Apply: Thursday, 31 December 2020
Job Location West India: Mumbai, Navi Mumbai, Pune, Nagpur, Ahmedabad, Baroda, Mehsana, Surat, Anand, Rajkot, Goa, Bhopal
Last Date to Apply: Thursday, 31 December 2020
British Council Invigilator Eligibility Criteria:
Be above 18 years of age.
Should hold a Higher Secondary Certificate (Class XII) or equivalent.
Have good English language and communication skills.
Be available for work on weekdays and/or weekends.
British Council Invigilator Salary
The usual pay scale of an invigilation for Session i.e LRW(Listening, Reading and Writing) is 180Rs./hr and timings for session is usually 7 hours. So it makes 1260Rs. /Day but there are maximum 4 sessions in a month.
And for speaking test day pay scale is 110Rs/hr and timings are 8–9 hours so it makes around 990Rs/Day.
British Council Invigilator Training Session.
1 Day training session is mandatory to attend usually held at any Hotel
Complete all mandatory training modules: Data Protection, Child Protection, Health & Safety, Equal Opportunities and Diversity, Anti-Fraud, Identity Checks as required
British Council Invigilator Job Description
To have knowledge of standards & procedures (training and reference material will be provided).
To ensure that all test day invigilation standards and procedures are met.
To ensure safety and security of assigned test material throughout the testing process.
To ensure all health & safety, child protection and emergency procedures are carried out as prescribed.
To act as the main point of contact for all candidates on test day.
To escalate issues and consult with the test day supervisor in the case of any exceptions or emergencies.
How to apply Freelance British Council Invigilator
Those interested should complete the application form and save the form with your full name as file name (eg: full name.docx) and send it to relevant email ids as below:
North India: Freelancework.NorthIndia@in.britishcouncil.org
South India: Freelancework.SouthIndia@in.britishcouncil.org
West India: Freelancework.WestIndia@in.britishcouncil.org
East India: Freelancework.EastIndia@in.britishcouncil.org
Note: If you are involved or plan to be involved in IELTS teaching in any form, please do not apply. Applications fail to made on our standard application form will not be considered.