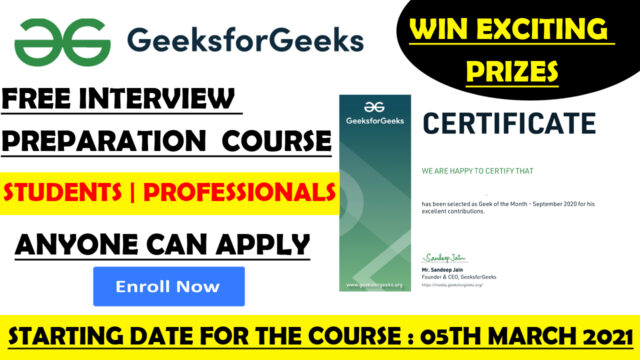 This event will be held for helping students in their Placement Preparation, by aiding in testing the coding and analytical skills of our participants and to prepare them for the much-feared company placements through mock interviews with industry experts.
This event is unlike the common college events, not a hack-a-thon, not a workshop but exclusively organizing as a full-fledged placement mock drive which will help the students to crack the actual placements and bag dream offers.
This will be a 3-day power-packed event, mocking the exact details of an on-campus placement procedure.
Course Content :
Opening Ceremony : A Chief Guest from GeeksforGeeks will be starting the event with an opening ceremony speech.He will also be notifying the complete 3-day schedule of the event, judge systems, event sponsors, and the Prizes.
Roadmap to FAANG : An industry expert will take a live session to help students understand what they need to work on, the do's-and-don'ts in their academics, clarify some basic doubts that cloud the minds of most of the students, and give them an idea on how to achieve their dream job, the Roadmap to FAANG.
The Coding Round : The Coding Round will be the first elimination round for the participants. This will be like a real coding round test that the companies conduct for the placements, consisting of problem-solving, debugging, and aptitude questions. Top performers will be qualified for the next round.
Technical Interview Round : We have selected some industry experts, who will be conducting a close-to-real technical interview of the students who have qualified for this round, based on the coding round results, just like what happens in actual placements.Those who clear this round will proceed to the next round.
HR Interview Round : Experts will be conducting an HR Interview of the students who have cleared the Technical Interview.This will be the final round for the Placement contest, clearing which signifies that you are ready for the actual placements, and might land your dream job. Winners will get the Prizes according to the final rank standings.
Closing Ceremony : A GeeksforGeeks Speaker will host a webinar for the closing ceremony, announce the Winners and end the event.One more takeaway point for the participants would be that we will provide them personalized feedback for every round so that he/she can work on those skills, overcome those shortcomings and race for perfection.
Starting Date for the Course : 05th March 2021
INVITATION CODE : GFGSEM0N2