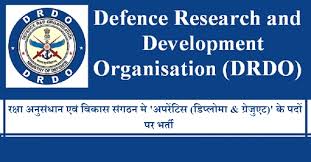 DRDO Apprenticeship to Graduate/Diploma/ITI Students | Apply before 28th June 2023
Naval Science & Technological Laboratory (NSTL), Visakhapatnam which is a premier Laboratory of DRDO proposes to engage apprentices as a measure of skill building initiative for the nation. Inviting online applications from eligible Graduate/Diploma/ITI (passed during the
year 2021, 2022 & 2023) hailing from Indian Nationals for a period of ONE YEAR (2023-2024)as per the details furnished below
Elligibility :
B.Tech/B.E.,(Graduate,Apprentice)Mechanical Engg.Naval Architecture/Computer Science Engg./Electronics & Communication Engg./(ECE)/Electronics & Instrumentation/Electrical & Electronics Engg. (EEE)
Vacancies :28
Stipend : Rs.9000/-
Technician (Diploma Apprentice)
Computer Science Engg./Chemical Engineering/Electrical & Electronics Engg. (EEE)/Electronics & Instrumentation/Commercial and Computer Practice/Mechanical Engg.
Vacancies : 23
Stipend : Rs.8000/-
ITI (Trade Apprentice)
CNC Operator/Computer Operator & Programming/Assistant (COPA)/Electrician/Welder (Gas & Electric)/
Turner/Fitter/Mechanist
Vacancies : 11
Stipend :As per the rates prescribed by government
Documents to be carried:
(a) 10th Marksheet and Certificate
(b) B.E/B.Tech/Diploma/ITI Mark sheets for all semesters
(c) Degree/Provisional Degree/Diploma/ITI Certificates
(d) Caste Certificate if applicable
(e) PWD Certificate if applicable
(f) Any Photo Identity Card issued by Govt. of India like PAN Card, Voter Card, Driving
License etc.,
(g) Aadhar Card and Copy of Bank Pass Book
(h) EWS Certificate (if applicable)
(i) Medical Fitness Certificate issued by a Civil Assistant Surgeon or equivalent
(j) Two Passport size photographs
Duration :
The tenure of Apprenticeship Training for the above trades would be 12 months,commencing from execution of the Contract of Apprenticeship.
How to Apply ?
Registration of B.E.,/B.Tech/Diploma Candidates should be made on www.mhrdnats.gov.in & ITI Candidates should be registered on www.apprenticeshipindia.gov.in.
LAST DATE TO APPLY : 28.06.2023
GET COMPLETE DETAILS : CLICK HERE