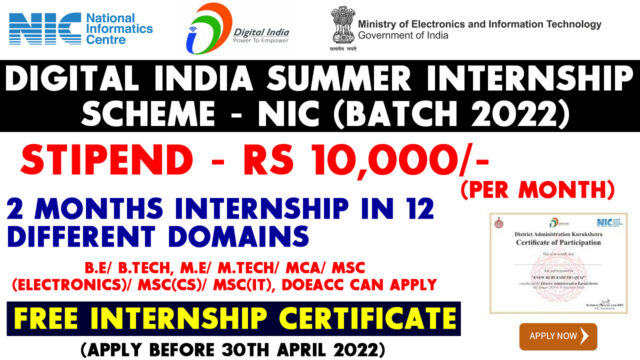 Digital India NIC -Summer Internship Scheme 2022 | NATIONAL INFORMATICS CENTER | Ministry fo Electronics and Information Technology | Apply Before 30th April 2022
An internship is an opportunity for a student to secure first hand and practical work experience under the guidance of a qualified and experienced Supervisor/Mentor. It also aims at active participation in the learning process through experimentation and putting into practice the knowledge acquired in the classrooms.A Government Internship has been offered for students in the departments of NIC "National Informatics Center" . This Internship Scheme is called as Digital India Internship Scheme for NIC (Summer 2022 Batch). If you feel like applying for it keep on reading the post and you will find the official link at the last of this post .
About NIC "National Informatics Center" :
National Informatics Centre (NIC) has been instrumental in steering e-Government/eGovernance applications in government ministries/departments at the Centre, States,Districts and Blocks, facilitating improvement in government services, wider transparency, promoting decentralized planning and management, resulting in better efficiency and accountability to the people of India
Elligibility of Digital India Internship Scheme for NIC (Summer 2022 Batch) :
Indian students from recognized universities in India who have secured at least 60% marks in the last held degree or certificate examination and pursuing B.E/ B.Tech, M.E/ M.Tech/ MCA, MSc (Electronics)/ MSc(CS)/ MSc(IT), DoEACC 'B' level shall be eligible.
(ii) Possessing minimum qualifications as above shall not guarantee internship in NIC. Candidates having exposure in the area of intended internship with good academic background and having higher qualification, based on need shall be given preference.
Note:- The students who are in the last semester or who will pass out in summer 2022 will not be eligible for the internship.
Duration :
The minimum duration of internship shall be of two months, extendable up to three months, depending on the performance of the candidate, requirement of NIC and time the Intern is willing to spend with NIC. Summer internship will start from 1st June 2022
Important Dates :
Application submission from Interns : 1st April to 30th April 2022
Result of selected Interns : 15th May 2022
Offer of Internship : 15th May 2022
Applicant to Confirm for Internship : 15th May to 18th May 2022
Commencement Date of Internship : 1st June 2022
Submission of Report by Intern : 31st July 2022
Report to be accepted and upload by Project Guide : 31st July 2022
Completion Date of Internship : 31st July to 7th August 2022
Issuance of Completion Certificate : 11th August 2022
Areas of Internship Scheme :
1)Blockchain Technology
2) AI and Machine Learning
3) Micro Services
4) Data Analytics
5) eService Delivery
6) Cloud Automation
7) Text Analytics and Ontology
8) Chat Bot
9) Software Documentation
10) Software Development
11) AR-VR
12) IOT and AI
Place of Internships :
The internship will be offered at NIC, Headquarters, New Delhi and NIC StateCentres.
How to Apply ?
Interested and eligible students need to apply online ONLY on the WebPortal of NIC for the Internship Scheme (URL: http://www.nic.in).
The Students needs to get Recommendation Letter forwarded by the Institution on the Letter Head of the Institute.
The Students needs to upload certificates of completed degrees and last result available
The student will be required to submit a write-up not less than 100 words and not more than 250 words under the subject `Statement of Purpose' bringing out the purpose/benefits of the scheme.
Students have to select maximum two choices of interest.
Student will be asked to submit a self-declaration for conversion formula of CGPA into percentage with attestation from their educational institution
Selection Criteria :
The Interns will be shortlisted and selected by the respective Groups/Divisions for their concerned domain.
For selection of interns, personal or Skype Interview, may be conducted, if deemed necessary. No TA / DA shall be paid to candidates for attending the personal interview
Stipend:
(i) A token remuneration of Rs.10,000/- per month would be paid to an Intern, subject to satisfactory performance, duly certified by his Supervisor/Mentor.
(ii) The remuneration shall be paid after the completion of internship on submission of Report duly accepted by NIC.
Certificate of Experience :
Certificates will be issued by NIC to the Interns on the completion of internship and submission of Report duly countersigned and accepted by Training Division, NIC.
IMPORTANT LINKS :
GUILDELINES FOR Digital India Internship Scheme for NIC (Summer 2022 Batch) : CLICK HERE
NIC OFFICIAL PORTAL : CLICK HERE
STUDENT INTERNSHIP GUIDELINES : CLICK HERE
OFFICIAL APPLY LINK : CLICK HERE
FOLLOW MY SOCIAL MEDIA CHANNELS, TELEGRAM CHANNEL, AND WHATSAPP GROUP FOR THE LATEST UPDATES ON FREE COURSES, CERTIFICATIONS, SCHOLARSHIPS, INTERNSHIPS, AND JOBS