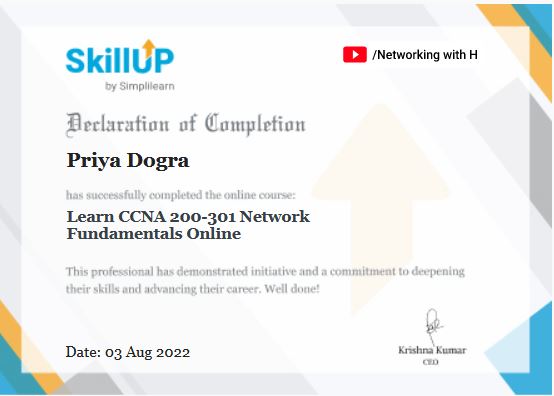 CCNA 200-301 Free Certificate | CCNA 200-301 Network Fundamentals Free Certification Course
Learn the fundamentals of networking in this CCNA 200-301 Network Fundamentals Course and get up-to-date on the latest requirements to pass the new Cisco CCNA 200-301 exam. By the end of this 5-hour course, you will gain an understanding of networking fundamentals and learn the basics of how to configure secure routers and switches. Earn your CCNA 200-301 certification after completing the course.
Skills you will learn
Network Engineering
Routing Protocols
Operational Support
SAN Networking Knowledge
Unified Communications
OSI Model
Multicasting IPv4 and IPv6
Cisco ASA Firewalls
Virtual Networking
Course Curriculum :
Learn CCNA 200-301 Network Fundamentals Online,here is the curriculum :
Lesson 1 – Introduction To Networking
Lesson 2 – Network Fundamentals
Lesson 3 – Automation And Programmability
Lesson 4 – IP Services
Lesson 5 – IP Connectivity
Prerequisites :
Since this is a network fundamentals course, no prior knowledge is necessary. The course modules cover relevant content from beginner- to intermediate-level.
Certificate
Get free certificate after completing the course.
GET DETAILS ABOUT THE COURSE : CLICK HERE
FOLLOW MY SOCIAL MEDIA CHANNELS, TELEGRAM CHANNEL, AND WHATSAPP GROUP FOR THE LATEST UPDATES ON FREE COURSES, CERTIFICATIONS, SCHOLARSHIPS, INTERNSHIPS, AND JOBS