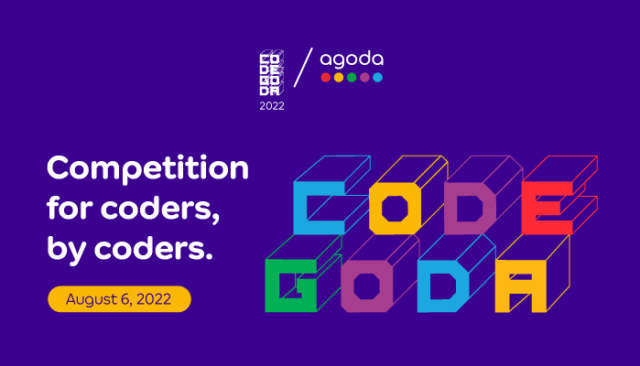 Agoda at Codegoda – Competition for Coders | Apply Before 20TH August 2022
About the Codegoda :
The annual Agoda coding competition is back in 2022 with exciting new tasks and higher rewards!
Codegoda is a programming competition ("Competition") provided by Agoda Company Pte. Ltd., a Singapore company with an address at 30 Cecil Street, Prudential Tower #19-08, Singapore ("Agoda").
One of the largest online programming competitions in the area, Codegoda, with more than 14,000 participants from 83 different nations. Programmers participate in a single-round competition to complete entertaining challenges for a chance to win prizes totaling 10,000 USD and a fast-tracked opportunity to join Agoda's elite tech team in Gurugram or Bangkok.
Highlights of Internship Program :
Registration Deadline : 05 Aug 2022
Location : Online
Start Date : 30 Jun 2022
End Date : 20 Aug 2022
Eligibility : Engineering Students , Undergraduate ,Corporate , Postgraduate
Eligibility :
The Competition is open only to those at least 18 years of age or older (on the day of registration) who have agreed to these Terms.
Furthermore, participants shall not be:

residing in a country/territory where this kind of Competition is prohibited by law
current employees of Agoda – Full-time, Part-time, Contractor, Interns in all entities ("Employee")
an immediate family member (parents, siblings, spouses, children) of a current Agoda EmployeeAgoda reserves the right to verify eligibility and to adjudicate, at Agoda's sole direction, on any dispute at any time.

If you gained information on a problem as a participant in any Agoda-managed program or by working as an Employee, you will be disqualified from competition. You may also be disqualified if Agoda learns you acquired information on a problem from any other person unless permitted by the rules of the Competition, as determined by Agoda.
Stages :
The Competition (Coding Round) :
Each participant will complete six analytic puzzles in three hours.
The most points will be awarded for the fastest and most correct solutions submitted.
There will be a 6-hour competition timeframe that must be finished all at once.
The competition window will open at 1:30 PM IT, or 12:00 PM IST, on August 6, 2022.
Go Beyond with Agoda (Interview Round): Agoda will contact shortlisted individuals to schedule interviews for the chance to work at one of the world's fastest-growing online travel companies.
Rewards & Prizes :
Winner: 3,500 USD cash prize
2nd Place: 2,000 USD cash prize
3rd Place: 1,000 cash prize
4th to 10th Place: 250 USD cash prize each
Top Female Coder: Additional 500 USD cash prize
Top 100: Exclusive Codegoda 2022 t-shirt
A chance to join Agoda's tech team quickly in Gurugram or Bangkok
Participation certificate
Click Here To Apply : Click Here
FOLLOW MY SOCIAL MEDIA CHANNELS, TELEGRAM CHANNEL, AND WHATSAPP GROUP FOR THE LATEST UPDATES ON FREE COURSES, CERTIFICATIONS, SCHOLARSHIPS, INTERNSHIPS, AND JOBS