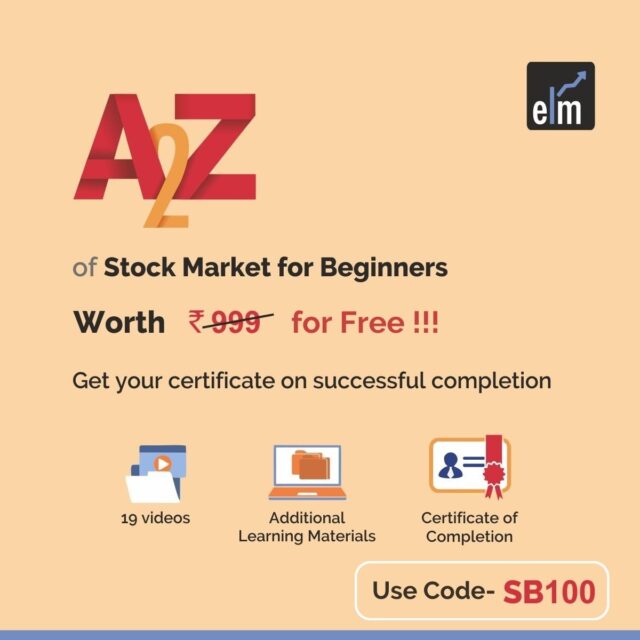 A2Z OF STOCK MARKET FOR BEGINNERS – Paid Courses for Free | Elearnmarket Free Stock Market Course with Certificate
COURSE HIGHLIGHTS :
19 videos
Additional Learning Materials
Certificate of Completion
INTRODUCTION:
Is the Sensex at its all-time high levels? Teens today see similar news flow on TV & social media and are in a state of turmoil! Bull or bear, what do they mean? Parents and school mentors- What if your teens got access to a course, presented as a classroom conversation, offering insights into the intricacies of the stock market! Whether your whiz kid is aspiring to be the next Warren Buffet or Raghuram Rajan, A2Z of Stock markets will initiate them to the bourses and help how to commence their investment journey.
The well-organized structure of the course will not only equip you with the fundamentals but also help you to start your investment journey in the stock market.
OBJECTIVE:
This course will enable you to gain an in-depth understanding of financial terms and concepts associated with the Stock Market.
It will also enable you to take independent investment and trading decisions.
It will introduce you to the possibility of choosing Finance as an interesting and lucrative career option.
BENEFITS :
The primary benefit of this course is to demystify concepts associated with the Stock Market following a hands-on approach, encouraging self-learning. Starting with the basic understanding of the share market, the course will proceed to explain the alternative investment options available, thereby enabling you to make independent investment and trading decisions.
TOPICS COVERED :
The following topics have been covered in this course:
Basics of Stock Market
Investment and various avenues of Investment
Explanation on Portfolio Diversification
Appointment of Stock Broker
Types of Brokers
Steps to identify the Right Broker
Method for Stock Selection
What to choose – Investing or Trading?
Company analysis and understanding financial statements
Impact of external events on Stock Market
Stock Market Index
Stock Analysis
Tracking Stock Market
Basic Guide to IPO
INTENDED PARTICIPANTS:
Young millennials, seeking an introduction to the basic terminology and concepts regarding the Stock Market.
Graduates, preparing for a career in Finance, looking to reinforce their theoretical and practical knowledge, and build an effective resume.
Ambitious teens, wanting to learn how to invest, build, and self-manage their portfolios.
Millennials, wishing to become successful long-term investors, and gain self- sufficiency in managing their own money.
Exam Details :
Under this course "A2Z of Stock Market for Teens " the participant will be required to appear for the online examination hosted on the website of Elearnmarkets.com. Please note that the participant will get the Certificate of Completion for the course, only after passing the Certification Test provided in the course.
Procedure:
The student has to appear for the Certification Test hosted on the website itself under "Test section >> Certification Test".
In case the student does not clear the the Certification Test, he can re-appear for the same after an interval of 8 hours.
Other Details:
Duration: 1.5 hours.
Pattern of questions: Multiple choice based question of 2 marks each.
No Negative Marking
Qualifying marks: 60%
Certificate of Completion:
After successful completion of the online examination, participants need to go to their respective courses in their dashboard and there you will find the "Get Certificate" clickable option to download your certificate.
Hurry up! Use Code – SB100 (To get the course for 100% Off)
Important Links :
CLICK HERE TO APPLY : APPLY HERE
FOLLOW MY SOCIAL MEDIA CHANNELS, TELEGRAM CHANNEL, AND WHATSAPP GROUP FOR THE LATEST UPDATES ON FREE COURSES, CERTIFICATIONS, SCHOLARSHIPS, INTERNSHIPS, AND JOBS