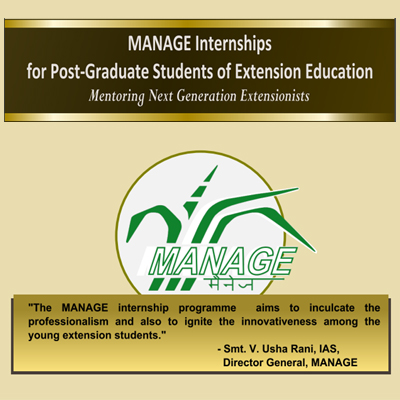 National Institute of Agricultural Extension Management (MANAGE) – Application Open till 31 Dec 2022
About MANAGE Internship
MANAGE Internship for PhD or Post Graduates of Agricultural Extension and related Social Sciences are a Two (2) months experiential learning programme to integrate knowledge and theory of agricultural extension management with practical application and skill development in a professional setting.
Interns get an opportunity to learn recent advances in agricultural extension management, gain valuable applied experience, develop professional dynamism and network among the agricultural extension stakeholders.
Areas
Interested candidates should have the qualification of PhD or Post Graduation in the below-mentioned areas:
Agricultural Extension
Agriculture Marketing
Home Science Extension
Agri-Business Management
Agricultural Economics
Animal Husbandry Extension
Fisheries Extension
Forestry
Food Technology
Agriculture Engineering
Mass Communication & Journalism
Information Technology
Food Processing
Stipend
Those who are interested in the above areas can apply for Two months Internship. Postgraduates and PhD holders are eligible with an 80% good academic background and good writing skills. Selected candidates can get the stipend amount of Rs. 35,000/- per month for PhD candidates, an amount of Rs. 25,000/- per month for Postgraduates candidates with chargeable boarding and lodging.
Duration
This is for two months residential program, likely to be extendable on the basis of need.
CLICK HERE FOR DETAILS : CLICK HERE