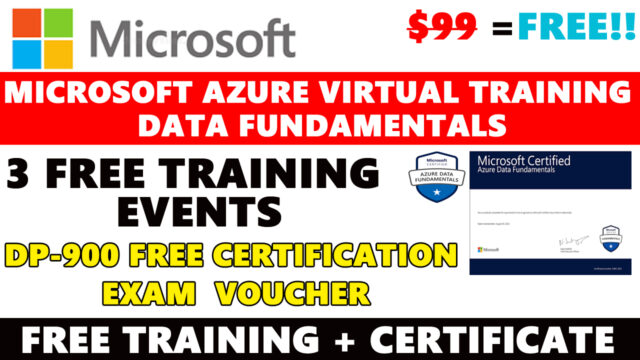 Hello, everyone here in this post I will share information about Microsoft offering Free  Exam DP-900: Microsoft Azure Data Fundamentals Certification. It is a no-cost training event for students and working professionals.
Microsoft Azure Data Fundamentals Virtual Training Event 2 Details :
Learn the fundamentals of core database concepts in a cloud environment. Join us at Microsoft Azure Virtual Training Day: Data Fundamentals to build your foundational knowledge of cloud data services. Explore relational and non-relational data offerings as well as big data and modern data warehouse analytics solutions in Azure.
Attend this training to:
Learn the roles, tasks and responsibilities involved in managing data in a cloud environment.
Gain basic skills for working with relational and non-relational cloud data services in Azure, including provisioning and deploying relational and non-relational databases.
Explore processing options for building data analytics solutions, including Azure Synapse Analytics, Azure Databricks and Azure HDInsight.
After completing this free training, you'll be eligible to take the Microsoft Azure Data Fundamentals certification exam at no cost.
Date and Time :
Tuesday, July 27, 2021 | 9:00 AM – 12:30 PM | (GMT-05:00) Eastern Time (US & Canada)
Wednesday, July 28, 2021 | 9:00 AM – 12:15 PM | (GMT-05:00) Eastern Time (US & Canada)