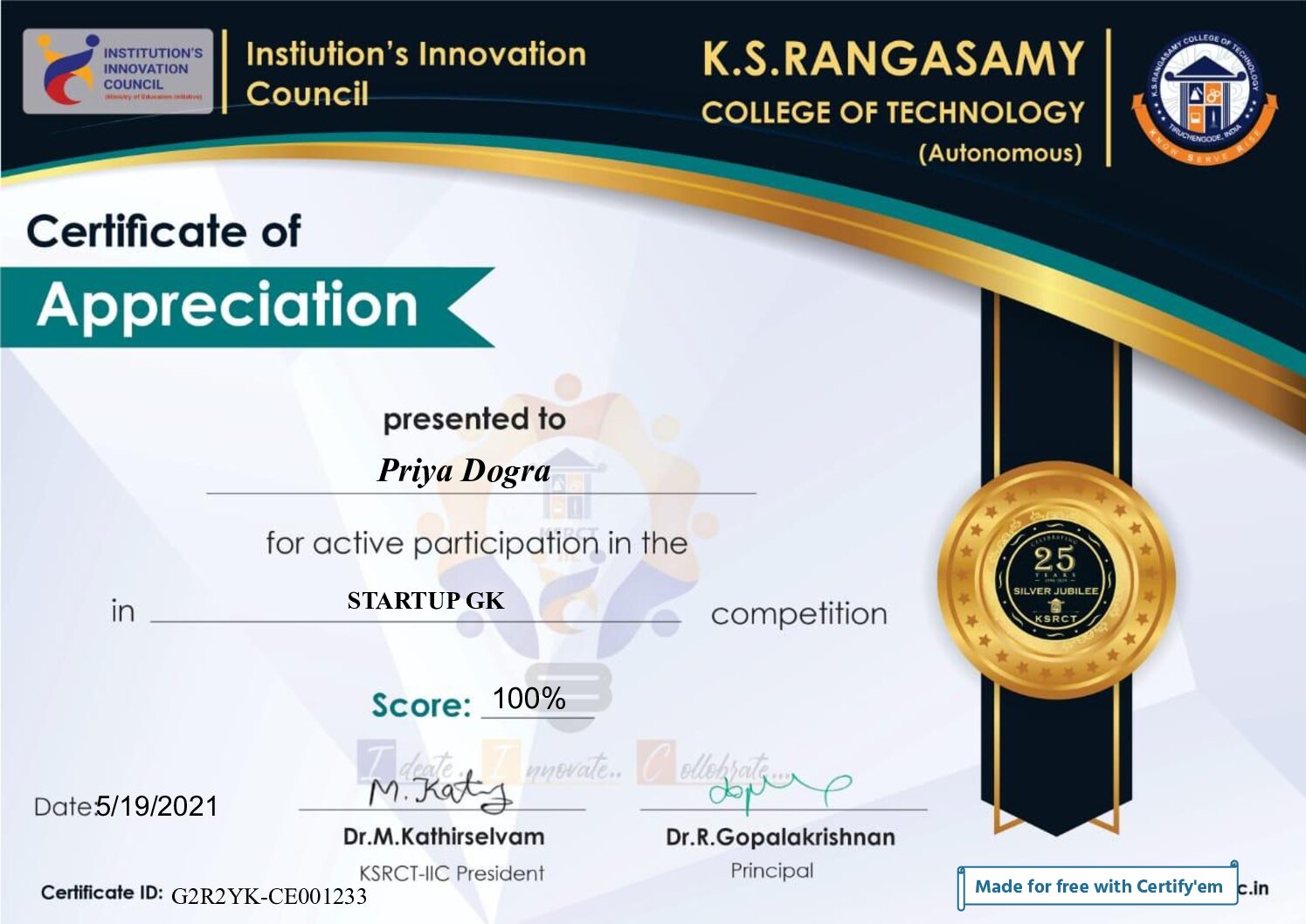 Hi everyone so here you will get free *"Online Quiz on Startup" by Organized by IIC( Institutions Innovation Council ) * This Quiz is designed to help you assess your knowledge. This is also a useful resource for employers to examine the knowledge of the candidates during an interview or for applicants who want to analyze their Startup knowledge. If you pass this test with 30% or above it is likely that you have pretty solid fundamental knowledge of Startup.
Join my Whatsapp Group
Here are the Questions and Answers
Government Medical Certificate for Nurses Assistant
Which of the following is not the NIPP partners? *
a) UBS
b) PayU
c) Amazon
d) IBM
What is the full form of SIDBI? *
a) Small Industries Development Bank of Indonesia
b) Small Integrated Deterministic Branch of India
c) Small Industries Development Bank of India
d) Secure Industrial Development Bank of India
The global hospitality services Airbnb has invested in which Indian startup? *
74% Oyo Rooms
20% Stayzilla
6% RoomsTonite
Which of these is India's first extensive on-demand grocery delivery app? *
31% Grofers
11% Amazon
58% BigBasket
GIS & Remote Sensing Online Certificate
Which of these delivery apps is funded by Google? *
39% Dunzo
51% Foodpanda
10% Domino's
Which of these food delivery services is headquartered in Bangalore? *
17% Uber Eats
40% Zomato
43% Swiggy
Which of the following enterprises was found by Akio Morita? *
a) Samsung
b) Apple
c) Panasonic
d) Sony
National Level Certificate on General Knowledge and Awareness
Which scheme is started by NITI Aayog for schools across India? *
a) Atal Tinkering labs
b) Atal labs
c) Tinkering labs
d) Anil bajwa labs
Which of the following is Product based Company? *
a) Amazon
b) Microsoft
c) Cisco
d) All of above
An informal group of innovative employees who are permitted to digress temporarily from their regular tasks to develop new ideas are referred to as: *
a. underground.
b. skunkworks.
c. yahoos.
d. intrapreneurs.
How many schemes are there under Pradhan Mantri MUDRA Yojana? *
a) 4
b) 6
c) 3
d) 2
For Startup India which online link is correct? *
a) www.statupindiahub.org.in
b) www.Startupindiahub.org.in
c) www.Startupsindiakub.org,in
d) www.Startupindiahubs.org.in
How many individuals In UP work in Startup Yatra? *
a) 6k+
b) 7k+
c) 5k+
d) 7k+
Which Indian taxi service is known as India's #1 ride hailing app? *
19% Uber
20% Meru
61% Ola
Which of the following is successful example of Startup India international partnership? *
a) Portugal, Sweden
b) Israel, Nepal
c) Russia, Singapore
d) Portugal, Sweden, Singapore
Microsoft Advance Excel Free Certificate