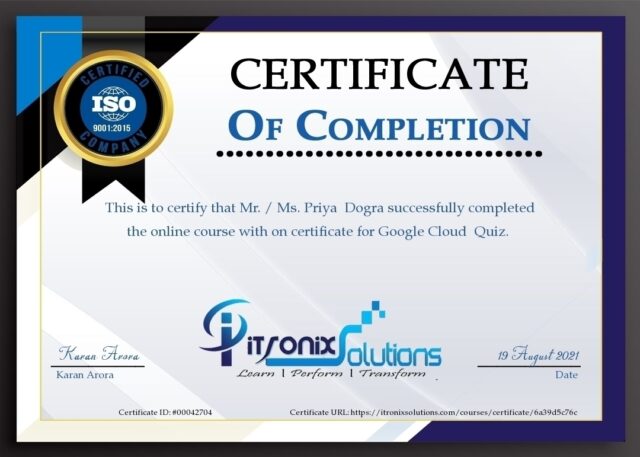 Google Cloud Platform Quiz Questions and Answers | Free Certificate
Google Cloud Platform is a suite of public cloud computing services offered by Google. The platform includes a range of hosted services for compute, storage and application development that run on Google hardware.
Take this fun 15 Question Quiz on Google Cloud Platform and assess your knowledge. Study the fundamentals of Google cloud architecture with Google Cloud Platform certification Quiz.
Quiz Highlights :
This Quiz contains 15 Questions
Each Question is either MCQ or True or False Format
The quizzes consist of questions carefully designed to help you self-assess your comprehension of the information presented on the topics covered in the module.
If you select an incorrect response for a question, you can try again until you get the correct response
Here are the questions and Answers :
What is GCP?
Google Cloud Platform
Which of these is an advantage of cloud storage?
Accessible anywhere with an internet connection What is the back end of cloud computing?
The third party company Choose fundamental characteristics of cloud computing
Customers can scale their resource use up and down
Resources are available from anywhere over the network
Computing resources available on-demand and self-service
Customers pay only for what they use or reserve Google Stackdriver integrates with Google Cloud Platform (GCP) but not AWS.
False
Which of the following network tools protects apps from distributed denial-of-service (DDoS) attacks?
Google Cloud Armor
What is Google's event-driven serverless compute platform?
Google Cloud Functions
Which is NOT a core component of Knative?
Monitoring
Which of the following features of Google Cloud Service Mesh provides peace of mind to users if a disastrous error occurs?
Failure recovery out of the box
Increased flexibility: If your bandwidth requirements tend to fluctuate, using the cloud makes perfect sense.
True
Which of these is not a benefit to cloud computing?
Completely protects your information from cloud hackers True or False: All Google Cloud Platform resources must be associated with a project
True
Which of the following is a command-line tool that is part of the Cloud SDK?
gsutil
What command would you use to set up the default configuration of the Cloud SDK?
gcloud init
Does a cloud computing service let you scale your resource use up and down?
Yes
APPLY FOR THIS QUIZ : CLICK HERE
OTHER VERIFIED CERTIFICATES IN 2 MINUTES :