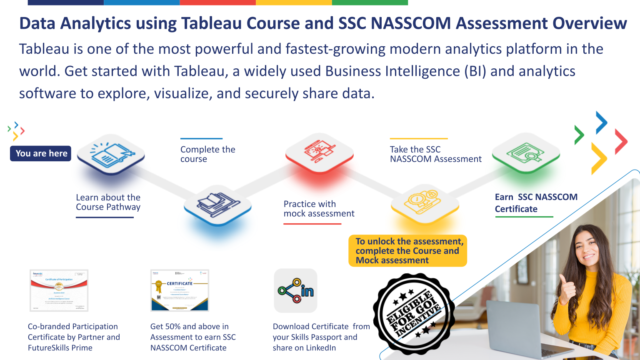 Futureskills Prime is Offering Free Data Analytics Course worth 12,000 absolutely Free – Get Certified and earn Cashback upto Rs 15,000
Hello everyone , there is a great oppotunity for all you around the corner . Futureskills Prime is offering you a Course on Data Analytics using Tableau worth Rs 12,000 absolutely free of cost in collaboration with Lagozon Edutech and that is not only the main thing, You will also get certified by Government of india and can earn upto Rs 15,000.Get complete details here and then apply for it
About the Course :
Data Analytics using Tableau Master your skills in building interactive dashboards and performing data visualization. With this course, learn user-friendly drag-and-drop functionality it can be used by everyone to clean, analyze, and visualize your team's data quickly. It covers in-depth knowledge of Tableau Prep Builder, Tableau Desktop, and Tableau Online.
With this course, explore to analyze and discover insights hidden in your data with Tableau. You will learn Tableau Desktop layouts, BI reports, dashboards, Tableau Function, Integration with ML, Live Projects. Our hands-on approach helps you arrive at your goals faster and with more confidence. This will help you provide exposure to the industrial environment and hence will help in creating competent professionals for the industry.
Course Highlights
Certificate Course on Data Analytics with Tableau
Accredited by NASSCOM, Approved by Government of India
Enroll and avail Government of India (GOI) Incentives after successfully clearing the mandatory Future Skills Prime Assessment
35 hours of Live sessions from Data Engineers/ Data Scientists and leads from Lagozon Technologies
Capstone Projects
LMS Access for 4 months post enrolment
Interactive sessions with Lagozon Technologies Data Analysts
Access to last 2 days of recorded live session videos for viewing purposes
Guidance for Job Readiness
Guidance for Technical Certifications
Who should take this course?/Eligibility :
Anyone who is passionate to leam and enhance skills for a career in data analytics
IT / Non – IT Professionals from Sales , Marketing , Finance , HR , SCM and Manufacturing departments
College Graduates
BI Professionals
Project Managers
Engineers from all branches – including Civil, Mechanical, Electrical, Agriculture
MBA and BBA Students from all specializations
What will you learn in this course?
Tableau Desktop
Data Management
Data Visualization
Data Forecasting
Data Modeling
Integration with ML
Client Management Skills
Domain Knowledge of Business Verticals
Why should you take this course?
The Certified Data Analytics Program is in association with Future Skills Prime accredited by NASSCOM,approved by the Government of India
Curriculum is designed, developed and delivered by Data Analysts from the parent company Lagazon Technologies Private Limited
The learner will be able to earn a Joint Co-Branded Certificate of Participation by Lagozon EduTech and Future Skills Prime
Hands on technology experience delivered successfully through well-defined learning methodologies for more than 2000 Students
35 plus hours of online classes with capstone live project and 35 plus hours of LMS content and assignments.
The learner is eligible for Government of India (GOI) incentives after successfully clearing the mandatory NASSCOM Assessment. For more details please visit : https://futureskillsPrime.in/govt-of-India-incentives
Learners will get access to multiple resources like NASSCOM Career Fair, NASSCOM Industry Events, Bootcamps, Career guidance sessions, etc.
Learners will be eligible to apply for jobs and get job placement assistance through the Talent Connect Portal of Future Skills Prime.
Course Prize : 11,999 + 18% GST Apply Coupon Code : LAGOZON2022 to access this course 100% Free (offer valid till 31st December 2022)
Benefits : Avail the GOI incentives and earn a Cashback
Certificate
Earn a certificate and demonstrate your commitment to the profession. Earn Joint Co- Branded Participation certification (NASSCOM + Lagozon EduTech).On Successful clearing the mandatory NASSCOM Assessment earn NASSCOM assessment Certificate
Apply for this Course : Click Here