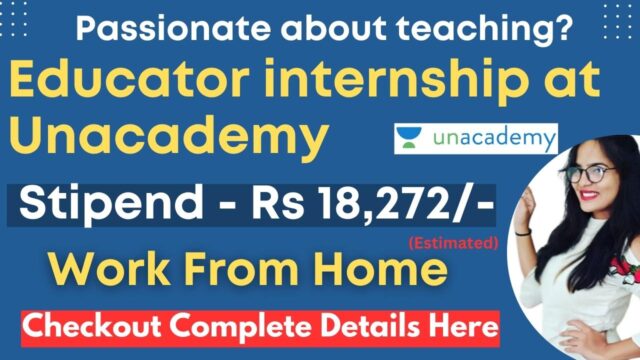 Educator Internship at Unacademy | Work From Home Paid Internship
The Unacademy Educator Internship Programme helps upcoming Educators ,fast-track their teaching careers with the support of India's Largest Learning Platform.
Highlights of the Program :
Fixed 2-month internship
Performance-based extension
Fixed stipend
Standard Educator Incentives
What's in it for you?
Besides being associated with a national brand and impacting thousands of Learners, Unacademy will offer you a chance to:
Learn from the Best
Learn from India's Top Educators
Earn and Excel
Receive a stipend and incentives
Represent Unacademy
Become the face of a category
Build your Brand
Enhance your online presence
Benefits :
Top performers may be offered a six to twelve month long Educator Contract.
Payment will be made as per the Bank details provided by you. The stipend and applicable incentives will be paid at the end of each month.
Selection Process
Becoming a Top Educator online is now achievable with the Unacademy Internship Programme. In order to get selected, follow the below steps:
Step 1: Application
Fill the application form with your contact details and share a link of a 7-10 minute demo video
Step 2: Demo video
Please provide a demo video that showcases the following:

1. Your introduction (1-2 mins)
2. A 50-100 hour content plan for your subject (4-6 mins)
3. A concise video teaching a specific topic (5-10 mins)

Note: Please mention the Subject and Category that you would like to teach.
Additionally, please share your educational qualifications to support your application.
Discussion
If shortlisted, a discussion will be scheduled to get to know you better
Selection
Selected applicants will be intimated about the next steps
GET COMPLETE DETAILS: CLICK HERE