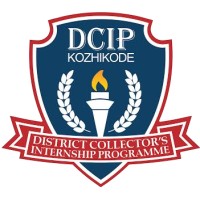 About the Internship Program :
District Collector's Internship Programme(DCIP) is an effort to bring those people who want to make a difference and not just be critical of how a Government system works.DCIP provides an opportunity for interns from educational institutes, NGOs and Corporates to work under the leadership of the district administration.
DCIP is an unpaid multi-disciplinary programme offered by the District Administration of Kozhikode to facilitate the development of a compassionate and responsible civil society.The internship provides an opportunity for passionate young minds to experience
government machinery's functioning from within-bridging theory and practice. Interns will work on multiple high-impact
government projects with various departments,carrying with them in valuable experiences for their personal and professional
lives.DCIP interns are selected from hundreds of applications from across the country and are mentored by professionals in fields
varying from medicine to social entrepreneurship.
Highlights :
Duration : 4 months
Agelimit : 20-30years
Stipend : NA
Minimum qualification : Graduation in any field of study
Eligibility :
Graduate/ bachelor's degree in any stream.The candidate should be available full-time for the programme and should be free from any other professional commitment during the tenure.
Roles and Responsibilities:
The selected Interns will be working on the following areas:
Developing citizen-centric governance.
To accelerate Citizen participation.
Awareness & Adoption Campaigns.
Co-creation & Co-design programmes to engage Citizens & various stakeholders in Kozhikode District.
Development of Technological solutions.
Ideation & Feedback on Programmes and campaigns
Certification :
Only on the satisfactory completion of the program will a certificate be awarded.
GET COMPLETE DETAILS : CLICK HERE