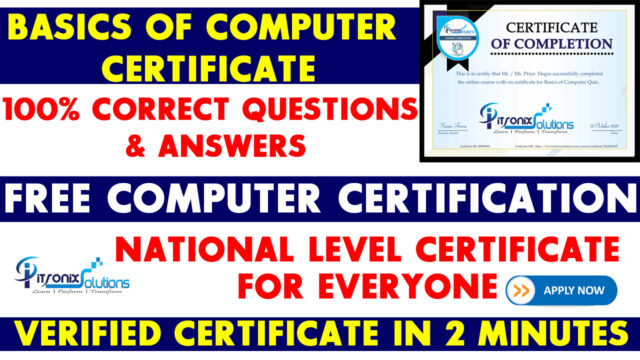 Basics of Computer Free Certificate – National Level Certificate for Students | Itronix Solutions
This basic of Computer Free Certificate is designed to help you assess your knowledge of basic Computer knowledge. This is also a useful resource for employers to examine the Basics of Computer Certificate knowledge of the candidates during an interview or for applicants. If you pass this test with 80% or above (16 questions or more), it is likely that you have a pretty solid fundamental knowledge of the basics of Computer Programming.
Here are the Questions and Answers :
What is software?
Instructions that tell the hardware what to do
Which of the following are types of computer hardware? Select all that apply.
Processor
The computer's main circuit board is called a __.
motherboard
The first mechanical computer designed by Charles Babbage was called ?
Analytical Engine
Which is a single integrated circuit?
Gate
Tabulating Machine was invented by ——-
Herman Hollerith
Which of the following are all basic parts of a desktop computer?
Keyboard, mouse, computer case
A _________ computer is battery operated and portable.
laptop
What type of operating system do we use on our classroom computers?
Microsoft Windows
A computer _ is a group of computers connected together.
Network
One thousand Bytes Represent
Kilo bytes
Which of the following is a correct Format of Email address
Govt@website.com
IC stands for
Integrated Circuit
Web pages are written using ?
HTML
Which of the following is not a characteristic of a computer?
Intelligence
Which of the following is an example of non volatile memory ?
ROM
Find the odd one out ?
C
The —— is the administrative section of the computer system?
Central Processing Unit
Which of the following performs arithmetic and logical operations?
Arithmetic Logic Unit
A ___ is a type of input device that can record videos and take pictures.
Transistors
APPLY FOR THE QUIZ : CLICK HERE
FOLLOW MY SOCIAL MEDIA CHANNELS, TELEGRAM CHANNEL, AND WHATSAPP GROUP FOR THE LATEST UPDATES ON FREE COURSES, CERTIFICATIONS, SCHOLARSHIPS, INTERNSHIPS, AND JOBS