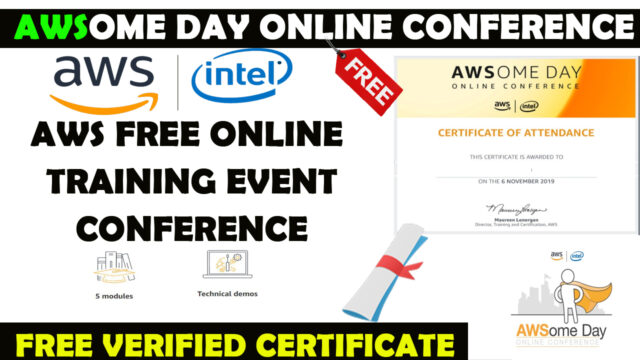 Apply Link : CLICK HERE
AWSome Day Online Conference is a free, online training event that provides a step-by-step introduction to the core AWS services for compute, storage, database, and networking. AWS technical experts will explain key features and use cases, share best practices, walk through technical demos, and be available to answer your questions one-on-one.

It consist of 5 modules :
Module 1: Introduction to the AWS Cloud
This module covers the value of cloud and the benefits of adopting AWS Cloud.
Module 2: Getting started with the cloud
This module covers several of the AWS categories and services – what the services do, when and how to use them.
Module 3: Building in the cloud
This module covers several services to support building in the cloud from having scalable applications, monitoring your resources, automating deployments, connecting and sharing data, and content delivery.
Module 4: Secure your cloud applications
This module covers how AWS approaches securing the cloud, along with the AWS Shared Responsibility Model, AWS Access Control and Management, AWS Security Compliance Programs, and resources available to you in better understanding AWS Cloud security options.
Module 5: AWS Pricing, Support and Architecting
This module covers fundamentals of AWS support plans, elements of pricing for several key services, as well as AWS Architecting, which includes the Well-Architected Framework and reference architectures for Fault Tolerance & High Availability and Web Hosting.
Click Here to Access Modules