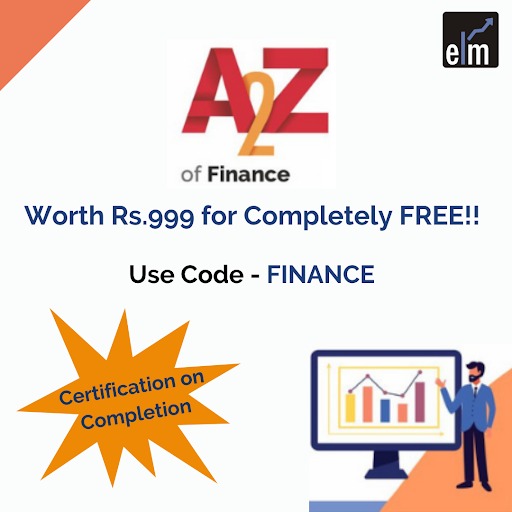 A2Z OF FINANCE- Paid Courses for Free | Elearnmarket Free Finance Course with Certificate
COURSE HIGHLIGHTS
30+ videos
2+ Hours of content
Self- Evaluation test
Certificate of Completion 
Price : Rs 999/-
INTRODUCTION
Evolved parents and progressive school mentors of agile-minded teenagers in classes 9-10, your young wards are already making headlines as innovative coders, app developers, even startup entrepreneurs! It is our responsibility to impart early, practical tips regarding money management, savings, and investment to ensure a strong foundation of monetary discipline. Presenting "A2Z of Finance", a course in an informal classroom conversation format, designed to equip your wards with all the fundamentals of finance.
OBJECTIVE
This course will enable your wards to gain an in-depth understanding of financial terms, concepts, and markets.
They will understand, with rising inflation rapidly eroding the value of money, how it becomes important to invest early in financial markets to achieve their financial goals.
They will be introduced to the possibility of finance as an interesting and lucrative career option.
BENEFITS
The primary benefit of this course is to demystify Financial concepts with a hands-on approach, encouraging self-learning. We will begin by explaining the basics regarding the value of early investment, capital, shares, SEBI and its role, functioning of the primary and secondary markets, and other related topics. As we proceed, the participants will get an all-around practical grounding on financial markets, thus equipping them to make informed, smart, and independent decisions regarding trading and investment.
TOPICS COVERED
The following topics have been covered in this course:
Importance of Financial literacy
Importance of Investment
How to set financial goals ?
What is Capital ?
What is a Share ?
Role of SEBI
Demat and Trading Account
Structure of Financial Markets
Primary & Secondary Markets
What is a Stock Market ?
Stock Market Indexes
Participants in the Stock Market
Basics of International Markets
How to track markets ?
Introduction to Currency Market
Concept of Exchange Rate
Risk and Myths about the Stock Markets
INTENDED PARTICIPANTS
This course is meant for:
Teenagers in classes 9-10, seeking an introduction to the basic terminology and concepts regarding financial markets.
Young millennials preparing for a career in finance, looking to reinforce their theoretical and practical knowledge, and building an effective resume.
Ambitious teens, wanting to learn how to invest, build, and self-manage their portfolios.
They could well be on their way to becoming successful long-term investors, taking a non-speculative route to wealth creation!
Guardians, gift your talented millennials this tailor-made opportunity to master the world of finance, and gain a head-start in their lives and careers. Sign up your children TODAY!
100% OFF COUPON CODE : FINANCE
CLICK HERE TO APPLY : CLICK HERE
FOLLOW MY SOCIAL MEDIA CHANNELS, TELEGRAM CHANNEL, AND WHATSAPP GROUP FOR THE LATEST UPDATES ON FREE COURSES, CERTIFICATIONS, SCHOLARSHIPS, INTERNSHIPS, AND JOBS