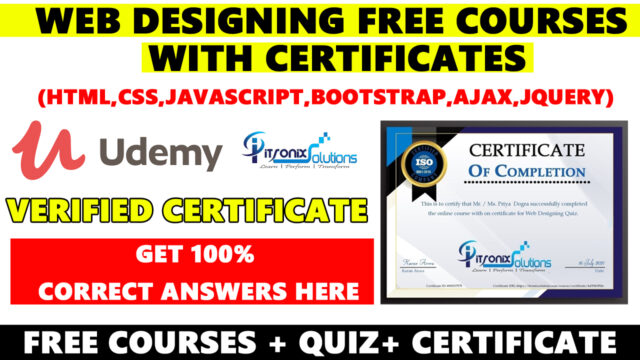 Hi, everyone in this post you will get some free Web designing Courses with Certification from Udemy also below that you will find a Web designing – HTML,CSS, Javascript, Jquery Ajax , Bootstrap Quiz MCQ Test from Itronix Solutions that you can complete and get ISO Certified Web designing Certification.
Web designing is having an outlook of how a website should look like and having a layout on how to achieve the vision for a client. In the quiz below you will not only test your understanding when it comes to some basic terms used in web design but how to achieve the perfect website. Check out some amazing mcq questions here which will give you a clear understanding of web designer interview questions
Courses from Udemy :
This Web Designing Quiz is designed to help you assess your knowledge of basic Web Designing Quiz. This is also a useful resource for employers to examine the Web Designing knowledge of the candidates during an interview or for applicants. If you pass this test with 80% or above (10 questions or more), it is likely that you have a pretty solid fundamental knowledge of Web Designing.
Here is the sample certificate
Other Verified certificate in 2 minutes :
Other Udemy Free Courses :
Java Programming: Complete Beginner to Advanced : https://bit.ly/3rcqAbx
Front End Web Development Ultimate Course 2021 : https://bit.ly/36FPzdW
The Real Power of Penetration Testing Unveiled : https://bit.ly/3xLV3j9
Adobe Photoshop 2021 Ultimate Course : https://bit.ly/3BaPjRR
Python 3 Master Course for 2021 : https://bit.ly/3B7Zsir
Python-Introduction to Data Science and Machine learning A-Z : https://bit.ly/3hKWrNr
Python Complete Course For Beginners : https://bit.ly/3ikRNon
Complete Modern JavaScript Firebase BootCamp the beginner : https://bit.ly/3xLxHKu
Logo Design Presentation: How to Present Ideas to Clients : https://bit.ly/3hGnVDO
React Progressive Web App With Workbox and Webpack Tutorial :https://bit.ly/3BatFgH