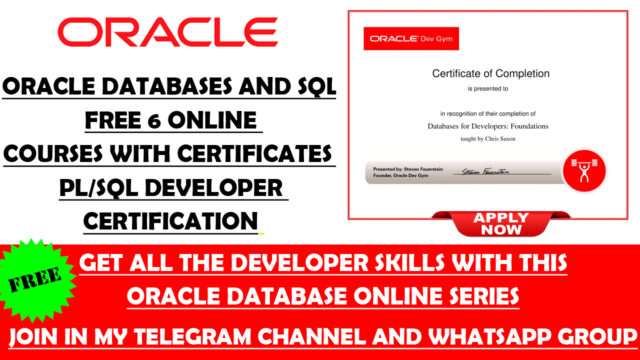 There are 6 Certification Courses in this Oracle Databases and SQL Free Online Courses with Certificates :
Course 1 : Databases for Developers: Foundations
Course 2 : Databases for Developers: Next Level
Course 3 : Get Started with PL/SQL Table Functions
Course 4 : Analytic SQL for Developers
Course 5 : CRUD operations using cx_Oracle and Python
Course 6 : Nine Good-to-Knows for PL/SQL Error Management
This Online Series contains all the 6 Courses FREE of Cost .The course is a combination of:
Videos designed to teach you database concepts.
Coding tutorials for you to practice your skills.
Quizzes to deepen your knowledge.
 The materials are designed so you can complete the course without a database. This course is aimed at beginners. It assumes no prior knowledge of SQL or Oracle Database. If you're an advanced user there may be little new for you. But it never hurts to brush up on the basics, right?Once registered, you have lifetime access to these materials to review at any time. So you can complete it at your leisure. But to get the best value from this course I recommend that you complete each class in the week it's released.