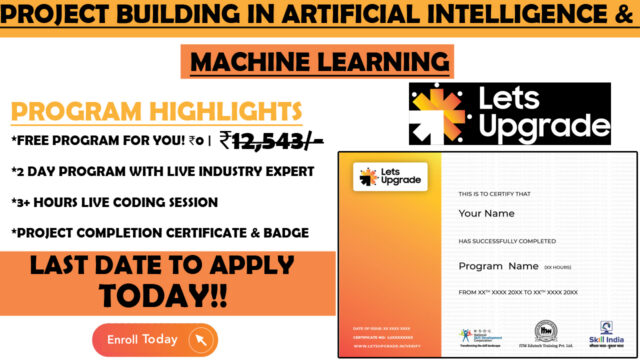 NSDC Launches 2- Day Free Artificial Intelligence and Machine Learning Project Building Session in collaboration with Lets Upgrade
Tutorials are great, but building projects is the best way to learn. Do project based learning and learn code the right way! This session is in collaboration with Skill India , NSDC and ITM Edutech Training PVT LTD.
Program Highlights (Direct to Point)-
2021 Top skillset for Developers😍
FREE Program for YOU! ₹0 | (the actual prize was ₹12,543/-)
2 Day Program with Live Industry Expert
3+ Hours Live Coding Session
Project Completion Certificate & Badge
Learn by Doing, and Learn how a Machine Learns
Project Completion Certificate & Badge
Quick doubts solving over Community
Details of Project →
"Breast Cancer Prediction" :
This Course will help you imply knowledge in following practices
Using the Breast Cancer Database, we will create a classifier that can help diagnose patients and predict the likelihood of a breast cancer.
We will use various Machine Learning Algorithms to analyse and predict.
We have to use 30 different columns to understand the data.
Load Data Set and Build the machine learning model.
Tools Required :
Certificate Sample :
Project Building Program in AIML Certification from LetsUpgrade, ITM Group of Institutions and NSDC
Learn how Machine Learns and works & why it is amazing.
Learn how to build projects for Millions with Impact.